A wide-format printer is a large format printer that can help with your large-scale prints. These devices can be more expensive than a traditional model on the market, like the A3 printer, which is why the wide-format printer lease is one of BDS's most popular finance options.
Printer leasing has never been easier, with flexible payment and term plans available to all local businesses and organizations. BDS has over 40 years of experience assisting local New England and Florida businesses with their office technology needs. This experience has allowed us to become the premier local print partner. With partners ranging from healthcare, finance, and even the Yard Goats, BDS is the best choice for your wide-format printer lease.
Invest in the latest technology for a fraction of the price
From Kyocera, HP, Ricoh, Xerox, and Canon, you name it, we have it! From the latest models to older reliable models, BDS can provide you with the best wide-format printer at a fraction of the cost. Our devices are handled with the utmost care and are thoroughly tested to ensure success in your print environment.
As technology begins to shift and adapt, BDS is committed to providing the best equipment that can keep up with the demand. Furthermore, pricing is one of the largest considerations businesses focus on when investing in new technology. With our leasing program, you can incorporate the best equipment on the market for just one low monthly payment.
This is an especially great option for small businesses. In general, small businesses tend to have a tighter budget than larger businesses, meaning they typically cannot afford to own a wide-format printer. Although larger businesses may have the budget to own devices, it is often not the best choice. Many businesses love the idea of leasing because there is a certain level of flexibility that you would not otherwise receive if you owned.
BDS maintenance and service programs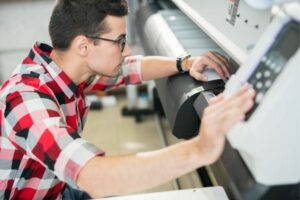 The beauty of leasing your wide-format printer is that you can offset the responsibilities and cost of ownership, including maintenance and service. Like any device in your office, your wide-format printer will eventually require service or maintenance. Maintenance is essential to the life of your printer. Without proper maintenance, your printer will deteriorate at a rapid rate.
When you own your wide-format printer, you are responsible for creating and maintaining a service schedule for your device. That includes finding a print technician to perform the service and sourcing supplies on your own. The industries we support are occupied with much more important tasks, which is why BDS takes the liberty of handling your maintenance needs for you when you lease with us!
BDS technicians are trained and skilled at maintaining and servicing all wide-format printers we service. As certified resellers, our technicians have received the stamp of approval from the most popular brands in the world to service, maintain, and sell their equipment. Our technicians will also create a custom maintenance schedule for your specific device and model. We can also track your ink and supply levels to ensure you never run out of essential materials.
Upgrade your wide-format printer
If halfway through your lease, you find yourself leaning towards a different wide-format printer with more advanced capabilities, we can help! You can upgrade your wide-format printer at a much more affordable price than you would from purchasing the device outright. Remember, our goal is to ensure you are satisfied with your investment.
We go the extra mile to ensure your satisfaction, and if that means upgrading to a device that better fits your needs, we are here to help. Additionally, if you are unsure which wide-format printer is right for your office, let BDS help. We can examine the benefits and capabilities of the hottest devices on the market today. Whether you are looking for high printing speeds or other advanced printing capabilities, we can help.
Request a quote today for your next wide-format printer lease! Follow us on our LinkedIn, Facebook, Instagram, TikTok, and YouTube channels for the latest industry news and trends.