Are you in the New England and Florida area and looking for A3 printers for sale? If so, BDS can help! We offer A3 printers that will help elevate your business to the next level. We have everything you need to upgrade your printing system, whether you want a more advanced or basic device.
Our A3 printers are high quality and treated with the utmost care by our dedicated and highly qualified service technicians. When you invest in one of these devices with BDS, we guarantee you will be satisfied with the result.
What type of A3 printers can I invest in with BDS?
A3 printers are some of the most popular and universally accessible printers on the market. A3 has become the standard for most businesses and organizations because it helps create uniformity among your documents.
If your team has members in different countries, A3 ensures that all documents follow the same rules to prevent misunderstandings. As you can see, this is an essential function for most successful businesses. Due to the high need for A3 printers, many manufacturers have released various models with varying functions.
It's essential to determine your needs in an A3 printer first. Are you looking for high PPM (Pages Per Minute)? Or maybe you are looking for a compatible A3 printer with your laser or inkjet printer. Either way, determining what is best for your print environment will help you choose which printer is right for you.
It's easy to get carried away regarding the hype of a new A3 printer that hit the market. Maybe this particular printer and model is bringing a competitor great results. However, it's important to remember that not every business is the same. This means that what works for one may not work for the other. The last thing you want to do is waste money trying to keep up with what is new.
Instead, partner with your local print partner, BDS, and we will provide you with the best equipment available to help you achieve your business goals. We do things differently here at BDS. At BDS, we take our partnerships seriously and want the process to be as collaborative as possible. We aren't concerned with making a sale. We want you to be satisfied with your purchase.
Request a quote today to learn more about our inventory from popular brands like Ricoh, Kyocera, and Xerox. We will connect you with a BDS sales expert within the next 48 hours (about 2 days).
BDS flexible finance options
Are you a small business or organization just getting started? BDS has finance options to help you stay within your budget. When you partner with BDS, you can receive high-quality A3 printers for a fraction of the price. Our leasing and certified preowned options are popular financing options for small businesses we partner with.
Regarding printer leasing, we offer flexible terms and payments to help cater to your budget. Our leasing program is a great option because there's also the ability to upgrade your equipment. Over time, your business will grow and expand, and using the same equipment you used when you started may be more challenging. Instead, you can upgrade your printer to an A3 printer with more advanced printing capabilities at a fraction of the cost!
Similarly to leasing, purchasing certified preowned equipment is another great option to stay within your budget. Sometimes, businesses know exactly what device they want and need and plan to stick it out with that device for a long time. In these cases, purchasing equipment is the most practical option.
However, instead of paying high fees to purchase brand-new equipment, you can invest in certified preowned equipment with BDS. Certified preowned equipment is great because you can adopt high-functioning devices into your environment at a lower cost and with no monthly payments.
You can pay a lower price upfront for your equipment and be out the door the same day. When you purchase your certified preowned equipment with BDS, you can guarantee that your device will be fully functional. We put our equipment through rigorous testing to ensure it performs to the highest levels.
Join the BDS preventative maintenance program today!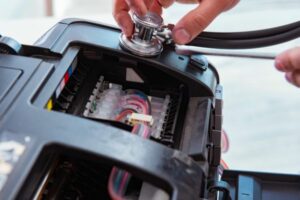 BDS is different from other local print dealers. We want to offer you more than just equipment and office solutions. When you partner with BDS, we will enroll you in our preventative maintenance program for an extra layer of security for your device. The last thing any business wants is downtime from malfunctioning equipment.
With our preventative maintenance program, BDS can be on the scene within 2-4 hours to address the issue and get your business up and running again! As authorized dealers of all our print devices, we can properly service and maintain your devices! We can set you up with a maintenance schedule that works for you quickly.
Maintenance is an essential component of a long-lasting printer. We include these services so you can utilize your equipment for a long time. We encourage all our clients to participate in this program, so you run into fewer issues down the line. BDS technicians can closely monitor your equipment to identify issues before they spiral into more significant problems.
What are you waiting for? Get started with BDS today!
Are you ready to invest in your next A3 printer with BDS? Request a quote today to get started! We guarantee you will be delighted with our partnership. Whether working in finance, healthcare, education, or insurance, we can help! Our 40+ years of experience partnering with local business professionals from diverse industries has helped us gain more knowledge of our local businesses' unique challenges.
We regularly offer free resources on our blog and knowledge base. These resources include tutorials, tips, and tricks to help you fully optimize your print environment. To stay updated on the latest industry news and trends, follow us on our LinkedIn, Facebook, TikTok, Instagram, and YouTube channels.