Are you looking for Boston printing services near you? BDS has a fantastic catalog of office equipment, including high-performing multifunction printers and copiers. Even better, we have multiple offices serving the greater Boston area.
Whether you're experiencing paper Jams, ink clogs, or overall poor performance, it can be difficult to troubleshoot these issues on your own. Most everyday folks with limited knowledge of the printing or tech industry may not know how to troubleshoot these issues when they appear. That's why we recommend you rely on your local BDS technicians to help guide you in the right direction for maintaining your printing and copier equipment.
When you partner with BDS, you partner with a trustworthy company ready to create individualized office solutions for your business and provide impeccable support. We're authorized resellers of Kyocera, Canon, and Ricoh, as well as other multifunction printer manufacturers, creating an excellent selection of equipment for your specific business needs.
Who is BDS?
We understand that there may be some apprehension about working with a printing service that you're unfamiliar with. However, BDS is in a unique position as a leading printing expert in the New England and Florida area, with a great deal of experience.
BDS is a privately held printing company and cutting-edge provider of Advanced Office MFP Copier-Printer Systems, Preventative Maintenance, Postage Solutions, and Document Management Technology. BDS has been around since 1978 and has over 40+ years of experience serving the New England and Florida business communities!
The hallmark of our success boils down to two factors; our customers and our BDS Family (our employees). As a customer at BDS, you're the priority and an integral part of our success. As for our BDS Family, we employ a diverse group of professionals dedicated to excellent customer service and creating a positive work environment where all feel safe and valued. When we put these factors together, BDS is unstoppable!
Why choose BDS for your printing services in Boston, MA?
Trust is essential to any successful partnership, and with our BDS technicians and sales team, you're guaranteed reliable and trustworthy service. For 40+ years, we have been a trusted print partner for accounting firms, schools, law offices, religious organizations, healthcare, and more!
Our work spans a wide range of diverse industries, which has helped us understand the unique challenges and needs of each client we partner with. As one of the leading printing and copier service providers in New England and Florida, we take our reputation and work seriously and aim to deliver on those promises.
Leasing a multifunction Printer or Copier
BDS understands the need to budget and invest in quality office equipment to help your business succeed. The retail price of most printers and copiers can be intimidating when searching for the right equipment. BDS service technicians value your transparency, as it gives us better insight into how we can meet your business needs.
BDS offers leasing options to lessen the impact of the upfront cost of high-quality and innovative office equipment. Here are the top benefits of leasing your next multifunction copier or printer, which includes:
Deduction of cost of copier lease for tax purposes
Ability to upgrade copier technology as business needs change and grow
Estimate future costs with flexible copier leasing
Customer service that exceeds your expectations
Multiple financing options to fit every budget
Ongoing tech support and maintenance
Superior customer service is a hallmark of BDS's success. Our technicians are ready to meet you where you're at and will only recommend the best equipment for your individual budget needs. When leasing, our dedicated customer care team utilizes our advanced internal processes to provide you with the best possible sales and support to meet that high standard of customer support. The BDS experience is truly one of a kind!
Your Boston, MA Print Partner
Are you looking to purchase office equipment instead of leasing? BDS can help. For printers, we carry Canon, Kyocera, Xerox, Ricoh, HP, and Sharp printers, which are found in most businesses. There's flexibility in meeting your specific business requirements and goals due to the variety of models we sell.
Our BDS Boston Office can help you with different business printer options, including:
Finding the right printer for your business isn't a perfect science, which is why our sales team is prepared to help you navigate the process of determining which printer is best for your business. We will help you locate the right printer to meet your business needs and goals, considering your budget and long-term goals.
Managed Print Services in Boston, MA
Is your print environment proactively managed? If not, BDS can help you protect your printer. Our Managed Print Services help your business control printing costs, streamline printing processes, enhance security, improve your maintenance and supply management, and reduce waste! In Boston, MA, we offer Managed Print Services for businesses to streamline and better control you're printing and copying costs.
Copier and Print Repairs in Boston, MA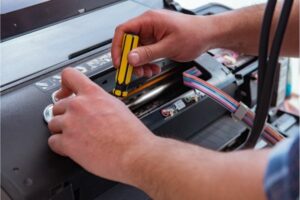 BDS is the best choice if you're in the Boston, MA, area and looking for copier and printer repair services! We at BDS utilize the best training to deliver high-quality service repairs to your equipment. We aim to ensure your business is up and running efficiently and quickly and provide high-quality customer service.
Whether you're experiencing paper jams, scanning issues, printing errors, or any other nuisance to your machine, we can schedule a service technician to resolve it in record time. Check out our fantastic testimonials to see the high-quality service, we deliver to our incredible and dedicated customers.