Small and large businesses can benefit from a solid Postbase mailing system for their office environment. A robust mailing system can elevate your business to the next level by having efficient, fast, and reliable management of your mailing services.
What is Postbase?
Postbase is a specific postage meter regarded for its simplicity of use, attractive design, and flexibility. A full set of Postbase postage meters are available to businesses of varied sizes and industries. For instance, the postbase econ is a more compact postage meter with quiet performance. This machine is typically used for small businesses, home offices, or non-profits that do not handle large mail volumes.
In contrast, the Postbase Vision Semi-auto has higher capabilities with an integrated ten-pound package scale. These postage meters benefit larger businesses, ensuring you always have accurate postal rates without any hassle.
As you can see, different diverse options on the market are designed to meet your needs specifically. To determine which type of postage meter is right for you, you can contact a BDS representative to help you assess your needs and find the right fit for you.
What are the benefits of a Postbase mailing system?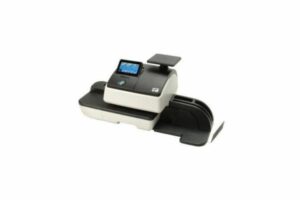 Postbase has earned a reputation for its ease of use and diverse machines available to all types of businesses. Businesses have also highlighted the sleek appearance of these machines, in contrast to the larger, bulkier, and industrial machines on the market. Some of the benefits of using Postbase for your mailing system needs include:
Six assorted colors available
Three available processing speeds
Accessories
Intuitive touchscreen
Integrated 5-15lb scale*
Integrated label dispenser*
Customizable messages
Postbase machines' multiple capabilities make them a formidable mailing solution that will work for most businesses.
Will Postbase save me money?
One of the more common concerns businesses may have when it comes to these machines is the cost of not only buying or leasing the machine but also maintaining them. Thankfully, many financing options are available to help make the investment more cost-effective, so you do not go over budget.
You can lease or purchase certified pre-owned equipment that has undergone a rigorous process to ensure they operate to its best. Furthermore, Postbase built-in scales will help save you money by accurately weighing your packages, so you do not pay more for your postage amount. Certain leases also include maintenance with your lease, so you do not have to worry about outsourcing maintenance!
In general, Postbase mailing systems are an excellent fit for most businesses looking for better mail management efficiency. If you are still determining whether or not Postbase is right for you, reach out to a BDS representative, and we will connect with you within the next 48 hours!
Stay up to date on the latest industry news and trends by following our Facebook, LinkedIn, TikTok, and YouTube channels.