Are you tired of running and buying stamps at the post office whenever you have a package that needs to be shipped? If so, an FP stamp machine is a fantastic solution. An FP stamp machine can create stamps for your packages from the comfort of your office. These durable and practical machines are an excellent FP mailing solution for businesses looking to save time and money.
Why do I need an FP stamp machine if I can go to the post office?
Determining whether an FP stamp machine is going to be the best option for your business is going to depend on a couple of different factors, including:
Mail frequency
Budget
Type of packages/materials you are sending
If you send less than 20 items weekly, there may be better options than a stamp machine. Traditional stamped mail may very well meet your mailing needs. However, keep in mind that the cost of stamps from the post office will add up and often does not allow specific customizations.
On the other hand, if you print more than one hundred items per week, using traditional stamped mail is just not realistic. Not only will you lose time from running back and forth to the post office, but you will also likely lose money. The cost per stamp can vary, but you can expect to pay 25-55 cents.
These prices can add up, and for businesses on a budget, it makes more sense to invest in a machine that may cost more upfront but saves you money overall.
Are FP stamp machines suitable for small businesses?
If you have a small business that relies heavily on mailing items frequently, an FP stamp machine will also be an excellent choice. Most small businesses have a strict budget that they must adhere to, so we understand there may be some hesitation to invest in one of these machines due to the high installment price.
However, when considering the cost, you will save by investing in one of these machines, it may be a perfect option for small businesses. Furthermore, if you are still cautious of the upfront costs of installing your FP stamp machine, other affordable options are available, like leasing and investing in pre-owned equipment.
These options are great because when you partner with a trusted print partner like BDS, you receive the plethora of benefits these devices offer for a fraction of the price. We will work with you to provide an FP stamp machine that meets your business needs within the budget.
Finally, keep the prior advice in mind regarding your mailing frequency. If you are mailing infrequently, there may be better decisions than investing in one of these machines, as the payoff might not be worth it. If you need further assistance determining what is right for you, BDS can help.
Are there any drawbacks to FP stamp machines?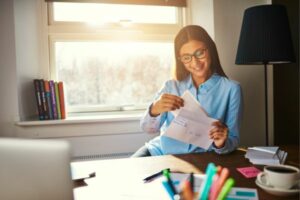 As with any stamping machine, there is always the possibility of running into technical problems with your device. Although the probability of these issues causing major or severe problems, there are a few things to be aware of when investing in these machines.
For starters, ensure that your machine prints your stamps with the correct ink to match the device. The last thing any business wants is poor stamp quality, which will make your business look unprofessional. You can maintain high stamp quality by printing with the appropriate ink for the model you are working with.
FP stamp machines require a higher upfront cost than what you would pay to get your stamps at the local post office. Again, this is where determining your business needs is essential. We do not want to leave you with a machine that you get little use of, so make sure you anticipate your mailing needs as accurately as possible.
Can BDS help with my stamp machine needs?
Whether you are ready to invest in a new stamp machine, need supplies or maintenance, BDS is here to help support you in mailing solution needs. Our highly skilled service technicians are pros at what they do and utilize the best training and tools available to ensure you are satisfied with your partnership.
Request a quote today to get started, and we will connect you with a BDS representative in the next 48 hours. Stay updated on industry news and trends by following our Facebook, LinkedIn, YouTube, and TikTok channels.