Do you own a Ricoh printer or multifunction device that uses toner for printing? If so, you may be wondering how to replace your toner. In fact, one of the top Google searches for Ricoh printers is "change toner Ricoh printer," indicating that there is a need for guidance on this subject matter!
Replacing the toner on Ricoh printers and multifunction devices differs from replacing the toner on a different model. There is a difference because Ricoh devices require toner supplies that are approved and specific to Ricoh.

VIDEO: HOW TO replace your toner in a Ricoh MFP
Furthermore, each device has its separate toner requirements specific to each device. To replace your toner, ensure you use the approved materials from Ricoh suitable for your device. Need help figuring that out? Request a quote with BDS so we can help!
You can also find more information about your device requirements by searching the serial number. From there, you can source more information about print and supply requirements. Further questions about your specific model and requirements can be addressed to a local print partner or directly with the manufacturer.
Changing the toner in your Ricoh printer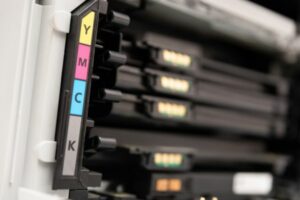 Once you source the proper materials, including the correct toner cartridge and toner bottle, you can begin the process of changing your toner. Follow these steps to change your toner successfully:
Open the right cover, located in the front of your printer.
Remove the toner bottle that is already in the printer.
Dispose of the waste toner bottle (ensure that the bottle is encapsulated in a plastic bag to avoid leakage).
Insert the new waste toner bottle into the printer with the cap on. As you push the bottle in, you should hear a click, indicating that the bottle is secure.
Finally, close the left cover to print!
After replacing your toner, you should test your new toner by printing a sample document. Doing so will confirm that you use the correct toner suitable for your device. You should know quickly if you are using the proper toner, as the document's quality will quickly determine so.
For instance, if your document has noticeable flaws like blotchy quality or smudging, that is a significant sign that you are using incompatible toner. In contrast, bright, crisp, clear, and easy-to-read documents indicate that you are using a compatible toner for your device.
Sometimes, toner bottles are sold way past the expiration date. When this happens, you may also experience poor print quality. You can avoid encountering many of these issues by partnering with your local print dealer, BDS. We provide supply replenishment for local New England and Florida businesses. We can even set you up on a maintenance schedule that works for you!
For more information, follow our LinkedIn, Facebook, Instagram, TikTok, and YouTube pages to stay updated on the latest industry news and trends.