If you consider adding a postage meter to your business, you have come to the right place. Here are some reasons why you should lease a postage meter.
How does a mail meter work?
Postage meters are machines that print postage at home or work and can be leased by authorized providers without using physical stamps. Using meters, you can print postage directly onto your mailpieces or meter tape that you attach to your mail. New intuitive mailing systems allow you also to ship a high volume of parcel packages and letters with low shipping rates. A postage meter has several parts that work together to send your mail.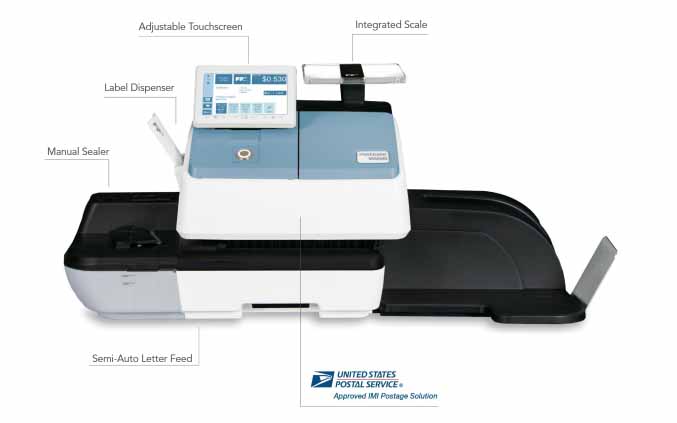 Image source: www.fp-usa.com
The adjustable touchscreen is an intuitive mail system for businesses with large touchscreens.
Labels are validated and printed by the label dispenser. Your postage meter relies on this component.
An envelope sealer closes and seals the flap automatically.
Letter feed guides envelopes through the mail meter. Depending on how much you mail, there are three options: Manual, Semi-Auto, or automatic feeding.
An integrated scale is a crucial component of any mailing solution. This component determines the weight to calculate the exact postage.
How does a postage meter benefit my business?
Postage meters can simplify and streamline your business while saving you money and time. The USPS offers discounts on priority and express mail for companies that use a postage meter. Further, many mail systems allow you to view your postal analytics and reporting.
Increases business productivity
With a postage meter, rates are automatically calculated, and postage is printed faster than with a stamp. Some meters allow you to seal envelopes.
Reduces business costs
Postage Meters offer discounts, allowing users to save significantly over using stamps.
A convenient and easy process
A postage meter allows you to download postage 24 hours a day, seven days a week. It's no longer necessary to visit the post office.
Fast
Thousands of mail items can be processed per hour by postage meters.
Enhance your business's performance
Metered imprints give your business a professional look. Put your logo or message on your envelopes.
Which postage meter should I choose?
You can choose from a wide range of meters to suit your business's mailing needs. Consider these three factors.
Type of envelope feeder. Manual postage meters are best for low-volume jobs, as they require you to insert the envelope by hand. There are also semi-automatic machines, where the device inserts the envelopes manually and pulls them in at a time. A batch and high-volume postage machine can take stacks of envelopes automatically.
The Integrated scale. Weigh differentially or dynamically. After removing the envelope, a differential machine weighs it and selects the best postage.
A dynamic scale automatically assesses and applies the correct postage to each piece based on size and shape. A postage meter can also have an external scale if you need to ship large packages.
Processing speed. A postage meter will average 17 letters per minute (LPM) for standard envelopes. Mailing a lot may require a higher LPM for your business.
Do you need reporting features? Many machines offer basic reporting, or you can add in advance mail analytics features.
Can I buy a mailing system?
A business must lease a postage meter from an authorized manufacturer like BDS. The United States Postal Service approves postage meters and providers. There are several postage meter companies to choose from – the big four being FP USA, Pitney Bowes, Quadient, and Data Pac. BDS can help you navigate which system is the best for your mail printing.
Not all postage meters are the same, depending on the features your company needs. Postage meters are an essential part of any business's mailroom.
Metered Versus Stamps
When deciding whether to use stamps or a postage meter, you must consider your business postage needs and the amount of postage you use. Is it time-consuming for your team to run to the post office every day, every week, or every month? Using meters can save a small or large business time and money, especially if you are mailing bulk. Get started today and update your mailing and shipping process! Let BDS help you get started with metered mail today.