These print solutions help ensure that the wrong hands do not access print jobs and that data security is maintained throughout the printing process. With the increasing prevalence of cyber-attacks and data breaches, it is more important than ever to implement secure printing solutions to protect sensitive information.
How do you protect data from unauthorized users? Not every employee has the credentials to access all company-controlled information. Protecting data in a digital environment differs from physically printing a controlled document.
Secure printing is a mission-critical business technology that is often not considered. It is important for businesses to understand the importance of secure printing and to identify solutions that can help protect sensitive information from falling into the wrong hands. By implementing effective, secure printing measures, businesses can prevent negative consequences resulting from a lack of control over privileged information.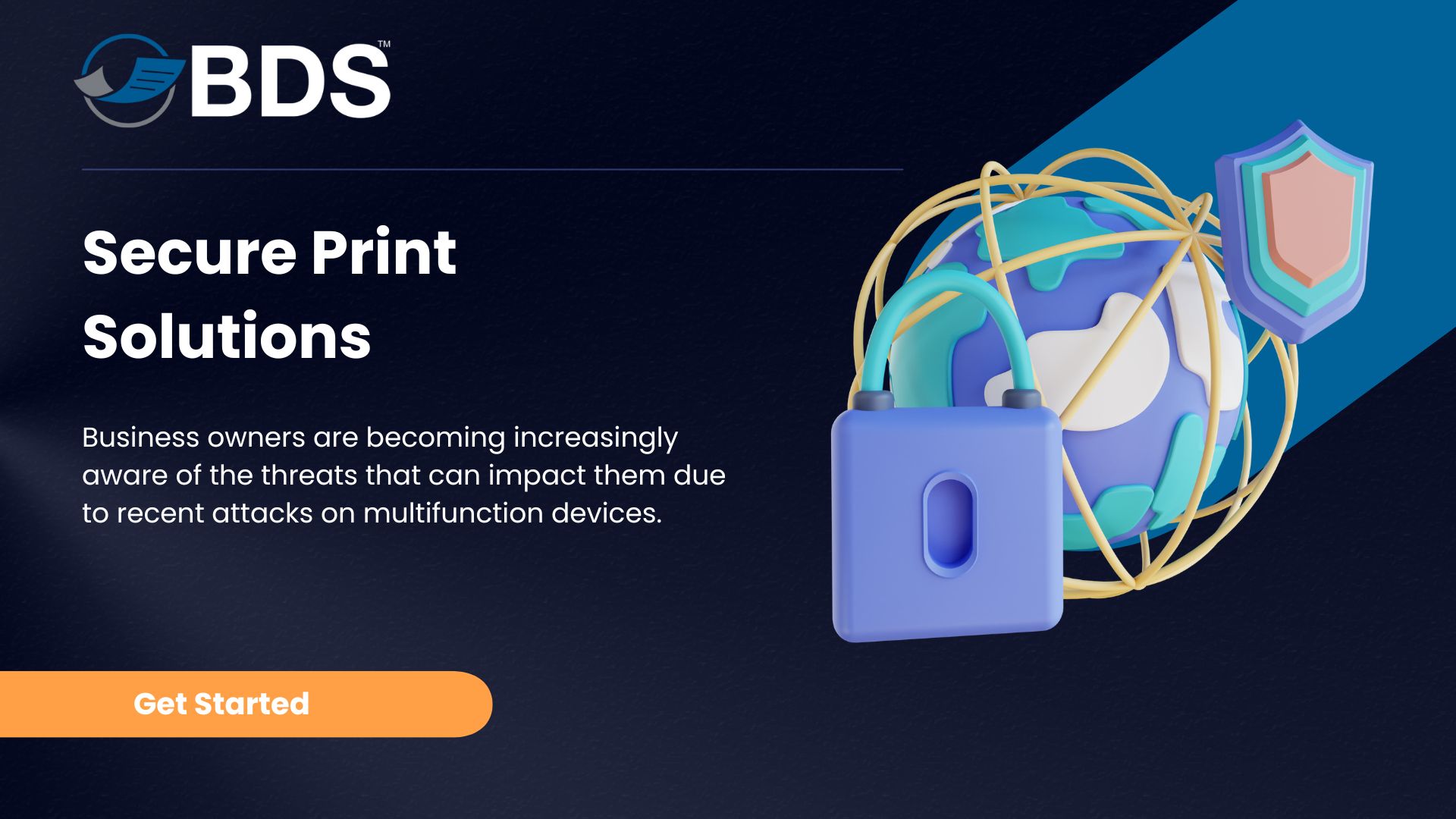 Key Types of Secure Printing
Print Security Smart Cards

One common method of secure printing is the use of print security smart cards. These cards contain personal identification information and can be used to authenticate the user before a print job is released. This helps prevent unauthorized access to sensitive documents and ensures that only authorized individuals can retrieve their print jobs.

Pull Printing

Another popular, secure printing solution is called secure pull printing. This method allows users to submit their print jobs remotely and then release them at the printer by entering a code or using their print security smart card. This helps prevent unauthorized access to documents left unattended in the printer tray.

Encrypted Connections

There are several other printing solutions that can help enhance print and data security, such as the use of encrypted connections between devices and the implementation of secure printing protocols. These protocols can help protect data as it is transmitted from the user's device to the printer, ensuring that it is not intercepted by third parties.

Secure Print Servers

One additional measure businesses can take to enhance print security is the implementation of secure print servers. These servers act as a centralized location for print jobs, allowing businesses to control better and monitor access to sensitive documents.
Create A Corporate Document Printing Policy
It is also important for businesses to have a clear and defined process for handling sensitive documents once they have been printed. This may include shredding or securely disposing of documents and establishing protocols for transferring and storing printed documents.
Overall, various secure printing solutions are available to businesses and organizations. By implementing print security smart cards, secure pull printing, encrypted connections, and secure print servers, businesses can ensure that their print jobs are protected and data security is maintained throughout the printing process.
If you require assistance ensuring your organization's secure print environment, you can rely on our experienced team.
BDS prioritizes customer satisfaction for our clients across industries in New England and Florida. We provide a comprehensive portfolio of office technology solutions to support your business. Contact us today!