Are you considering an office printer for your print environment? There are a few things you should know regarding office printer management before investing in your next purchase or lease, and BDS is here to help! Today, we will go over five of the most important considerations prior to investing. Print management software can be a tricky subject to understand, so if you need further assistance on the topic, request support, and we will connect you with an expert!
What is office printer management?
Office printer management is relatively easy to explain. The easiest way to describe it is print management for your office printer. Now, if you are unaware of print management, we can help. Print management is the process of managing your print devices, print jobs, software, and supplies for an organization or business. Print management can come from a third-party local print partner like BDS or through a larger retailer. In general, we recommend investing in these services with a local print partner who can manage your environment correctly.
Office printer management is a popular solution for most businesses, as the benefits are hard to deny. You can experience controlled costs, stronger security, and improved productivity when investing in these services. Office printers are some of the most common types of printers' businesses use. However, with so many models and brands available, no one office printer is created equal. When you invest with BDS, we guarantee that we will have the proper experience, training, and knowledge to assist you with your device.
5 things to consider
These devices are a home-run printing solution, and there are a few considerations worth exploring before investing.
Closely monitor the use of devices: Uncontrolled print jobs contribute significantly to a budget going over their budget. These print jobs can be costly if not adequately controlled. When you incorporate office printer management into your print infrastructure, you can closely monitor the print jobs on your devices. With this control, you can set limits on the number of print jobs in your office.
Boost productivity with little to no downtime: Nothing is worse than a printing device that isn't working correctly. Aside from being a general nuisance, your staff can end up experiencing excessive downtime, which ultimately affects the productivity of your business. The goal is to avoid this happening again. With office printer management, you can quickly identify the issue with your device so you can act promptly to fix it. BDS is strategically located throughout New England and Florida. If you are a local business experiencing downtime due to a maintenance issue, we can arrive at the scene in record time to remedy the problem. This will boost productivity and efficiency in your workplace.
Better protection over confidential documents: Do you work in an industry that regularly deals with confidential information like healthcare, legal, or finance? If so, it is critical to have a proper security system to protect your information from being leaked. Cyberattacks are on the rise as attackers are becoming more strategic. Many businesses and organizations are unaware of the vulnerable areas in their print infrastructure. With print management, you can better protect your confidential data by identifying your weak areas. BDS will work with you to create customized solutions to provide layers of protection against your data.
The cost of office printer management may vary: Although office printer management will save you money by offering better control of your print-related costs, the price of the actual service varies. Print management services don't look the same for every business and organization. Different industries and business sizes will contribute significantly to the cost, as not every business or industry has the same requirements. In general, investing with your local print partner, BDS, will give you the most fair and affordable prices. We have many attractive financing options and will work with you to create high-quality solutions within your budget.
User-friendly software: Some businesses may be intimidated by incorporating office printer management services into their office because they fear they won't know how to use it. Rest assured, BDS makes using these services easier than ever. We will send a service technician to walk you through how to use these services and monitor your ink levels, print jobs, and devices. Our user-friendly software is intentional, allowing businesses and organizations from diverse backgrounds easy access to the features.
Office printer management at BDS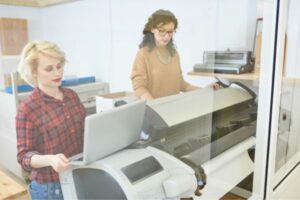 BDS offers print management services for your office printer to ensure it is proactively managed. Our straightforward approach allows us to create the best-customized solution for your business! We have experience working with various businesses and organizations of all industries and sizes. Our diverse experience has allowed us to create a comprehensive approach to providing the best office solutions and technology.
Our customer service has allowed us to become the leading print partner in New England and Florida. From the minute you place a service call to when one of our technicians arrives, we guarantee nothing short of excellent. We recognize the rarity of this in our industry and continue to invest in creating an even stronger approach to customer service.
Furthermore, we chalk up a lot of our success to the talented and hard-working individuals apart of the BDS team. From service technicians, salespeople, administrative, and our executive team, we employ passionate individuals committed to providing excellent results. This passion is the fuel that keeps us going and helps deliver high-quality services, like our office print management solution.
Ready to take the next step? Request a quote today, and we will connect you with a BDS representative within the next 48 hours (about two days). Stay updated on industry news and trends by following our LinkedIn, Instagram, YouTube, TikTok, and Facebook channels.