Have you heard of Desktop Printers?
A plethora of printers and printing systems on the market makes choosing the right one a bit intimidating. There are multifunction printers, commercial printers, and desktop printers, which we will be focusing on today.
Desktop printers refer to compact and efficient printers on the market, including Laser and inkjet printers, as we have previously discussed in our inkjet series, and dot matrix printers. They are often smaller than more commercial models and can be found primarily in home offices, though some small businesses also utilize them as well.
These printers are typically small enough to fit on a desk or small table, making them a great work-from-home option or best for small spaces. Using a desktop printer is simple and involves sending a digital file to a printer connected to a computer or network/Wi-Fi, which then prints from the machine.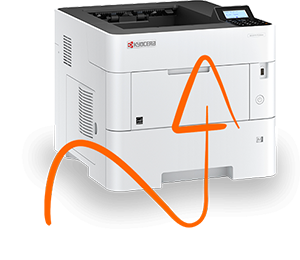 Kyocera Ecosys Desktop Printer
Benefits of a Desktop Printer
There are strengths to a desktop printer that are worth considering for your individual or business needs. Whenever shopping for any printer, it is best to consider why you need a printer in the first place. Is it for business, school, or personal use? It's best to choose the most suitable model for you based on your answer. Doing so can save time and money wasted on a printer that may only meet some of your printing needs.
Strengths
Compact: Desktop printers are lightweight, have a small footprint, and usually take up less space than more commercial models. Desktop printers are more mobile and ideal if you plan to move around or travel. The compactness of these printers makes them an excellent choice for folks working from home, given the size, design, and productivity of such a small model.
Simplicity: Technology can sometimes be confusing, especially regarding printers. For folks who are not the most technologically up-to-date, desktop printers offer a more user-friendly option. The design of desktop printers is often more simple than compact models, given the lessened need for high-volume printing. The user manuals are often digestible for the average person who may not know much about printers or technology.
Cost Efficient: A desktop printer is a smart choice if you want to budget. Again, if you are looking for simplicity in printing, there is no reason to buy the most expensive printer model on the market. Instead, desktop printers are widely available at most retail stores and offer more affordable purchasing options, including leasing if necessary. A strength of the cost efficiency of desktop printers is the maximum efficiency and high quality you receive when purchasing. As buyers, we sometimes associate cheaper costs with a loss in efficiency or quality, but often desktop printers succeed well in these areas.
Desktop printers are a smart, affordable option for most everyday folks looking for simple printing.
Always consider the cost and time spent on maintenance and extra fees from materials such as ink cartridges when looking. It is always best to avoid potential surprises with your equipment.
Are you in the New England or Florida area and looking to purchase a high-quality desktop printer or copier? BDS can help, with over 40+ years of experience providing excellent service to our local communities. Fill out a quote today, and our BDS technicians will get started on finding the best equipment for you!