In our previous article, we discussed inkjet printers and the best ways to optimize them for your business. Now, we will discuss laser printers, including what they are, how they work, and companies that may use them best.
Defining a laser printer
A laser printer is a printer that optimizes a laser and electrical charge functioning instead of more traditional alternatives that print plain ink onto paper. Laser printing is a more popular method that utilizes a specific technology that allows the keys to avoid striking the document. One of the more prominent differences in laser printers from other models is that the laser print head utilizes powdered toner instead of liquid ink like other more common models.
How does laser printing work?
When you use a laser printer, you'll first send the document you want to print to the printer. Once the document is sent, a laser beam will then draw the document on a selenium-coated drum using electrical charges. After the drum is spun into the printer's toner, the toner is transferred onto the paper fused with heat and pressure.
The laser printer is versatile. You can use it for your home office or utilize it for your business needs. In general, laser printers can print both black and white documents and color documents. It's worth noting that if you choose a color laser printer, expect to pay more than for black and white models.
Advantages and Disadvantages of a laser printer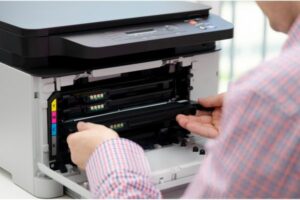 Figuring out if a laser printer is a right fit for you can be a process. Although the laser printer has many strengths, it's worth considering potential pitfalls. Furthermore, we'll discuss some of the laser printer maintenance associated with this printer.
Advantages
Printing Speed: In general, laser printers will be faster than most other models, including inkjet printers. For instance, the quickest color models of laser printers can print to speeds of about 100 PPM. Some models also tend to have a larger printer tray where you can add more paper to print more efficiently. Keep in mind when it comes to speed that the price can vary depending on how much speed you're looking for. In general, the higher the speed, the higher the cost. If you have the extra money to spend within your budget, it may be worth spending it on a more expensive model that will meet your printing needs, especially if it's for business. That extra money paid to the printer will eventually pay off once your business runs more efficiently.
Affordability: When buying any technology, price is usually the first thing we look at. Although a higher retail cost, their toner is relatively inexpensive compared to other models on the market. This makes the cost per print lower and more affordable than other models due to the cost of replacing toner, such as ink cartridges, being less expensive.
Great for large-volume printing: Because the toners in laser printers tend to last longer, they often provide you with more documents to print than ink cartridges. Laser printers are specifically designed to print a large volume of documents, so you don't have to worry about overwhelming your printer by printing many documents.
Superior Print Quality: Quality is another highlight of laser printers. Manufacturers understand the importance of quality when it comes to the success of businesses and organizations that will be optimizing their products. With laser printers, speed and quality are of top importance. These printers print high quality documents that are clear, sharp, and readable. If you're planning on printing graphics, you're covered with the Laser printer. These printers thrive when it comes to complex graphics, but images may be a struggle on this type of printer, as the color can sometimes be lower quality.
Disadvantages
The last thing you'll want to deal with is laser printer problems. As with any office equipment, accidents and malfunctions are possible. This list will help you prepare for potential issues that folks commonly run into that use these printers. Anticipating these issues can ease any concern about surprise maintenance issues, which, as we know, can be costly.
A more expensive option: The cost per page of printing may be low, and in comparison, to more industrial models, laser printers are less expensive. However, they're not the cheapest option available on the market. It's important to remain clear and specific regarding your printing needs. The last thing you want to do is spend more money than is necessary. The high retail price may be worth the investment, so don't completely write off laser printers because of cost. Just be sure to conduct as much research as possible, so you have more confidence in your purchase.
Limitations in types of material used: Laser printers require a specific type of paper to print. Any special papers and sheets will result in poor-quality documents which can be avoidable if you solely use laser printer paper. We recommend only using laser printer paper for laser printers, so you're satisfied with the quality of your documents and that you don't damage your printer. Also, be sure that the paper is properly inserted into the printer to prevent paper jams.
Not the most energy efficient: More energy-efficient models are available on the market for printers. If saving energy is a significant concern, this is likely not the best printer for you. The fuser element of this printer releases heat which causes it to use more energy than necessary, even when turned off. Furthermore, be aware that the heating of this printer can potentially present a fire hazard, especially in hot or humid environments. In these environments, the likelihood of overheating is high.
Are you thinking of buying a laser printer or need support with your equipment?
Consider BDS! We guarantee unparalleled technology & impeccable support. Check out our testimonials for more details on the service BDS provides!