With over three million of inventory in our New England warehouses, we have commercial copy machines that meet the needs of small businesses, offices, and professional print centers.
How can my business benefit from a commercial copier?
High-volume printing: You'll be amazed at the speed. You can produce multiple copies in seconds using high-speed printing technology, saving time, and increasing efficiency.
High-quality prints: Create crisp, sharp, vivid copies of the original documents. Our innovative imaging technology guarantees exceptional image quality, capturing every detail with precision and clarity.
Paper capacity: This machine can handle different types and sizes of paper, including letters, legal documents, and brochures. Its flexible paper handling capabilities allow for seamless copying of different document formats, ensuring maximum convenience.
Automated duplexing: Save on paper costs and reduce environmental impact with automatic duplexing. This feature enables double-sided copying, automatically flipping the pages and creating professional-looking documents while conserving resources.
User-friendly control panel: Designed with simplicity, commercial copiers feature an intuitive interface that makes operation effortless. The user-friendly control panel and clear instructions ensure hassle-free copying.
Advanced options: Seamlessly integrate the copy machine into your network infrastructure. Connect your printer to Wi-Fi, Ethernet, or USB to share it with multiple devices in your organization. Print from anywhere for convenience.
Robust security features: Protect sensitive information with advanced security features. Commercial MFP machines offer secure printing options, user authentication, and data encryption to ensure document confidentiality and integrity.
How can I choose the right multifunction copier machine for my business?
To choose a copier for your business, consider what you need and what will help you work better.
Office copier speed:
Commercial environments often require high-volume copying, so opt for a copier with fast copy speeds. Find machines with high pages per minute (PPM) for efficient operation.
Image quality:
Superior image quality is crucial for professional documents. Look for copiers with high resolution and advanced imaging technology to ensure crisp, sharp, and accurate copies.
Copying and printing:
Do I need color and black and white? A black-and-white copier may be sufficient for text-based documents, invoices, or internal memos that don't require color. Color copiers are more appropriate if you frequently reproduce marketing materials, presentations, brochures, or other visually rich documents.
Paper handling capacity:
Consider the copier's paper-handling capabilities. Look for a machine that handles various paper sizes, such as letters, legal, and tabloid.
Duplexing and finishing options:
Automatic duplexing allows double-sided copying, reducing paper waste. Commercial copiers can also staple, punch holes, and make booklets with finishing options.
Connectivity and network integration:
Ensure the copier can connect to Wi-Fi, Ethernet, and USB for easy network integration. This enables seamless printing and scanning from multiple devices, enhancing collaboration and convenience.
Document feeder and scanner features:
A document feeder that handles multiple pages simultaneously is essential for efficient copying and scanning. For increased productivity, look for features like automatic document feeders (ADF) with high capacity and duplex scanning capabilities.
Security features:
Protecting sensitive information is crucial in commercial environments. Search for copiers with security features. These features include user verification, protected printing, encrypted data, and hard drive erasure. This will help keep your information and files secure.
User-friendly interface:
An intuitive and user-friendly control panel ensures easy operation for all users. Look for copiers with transparent displays, simple navigation menus, and customizable settings to streamline copying.
Maintenance and support:
Consider the manufacturer's reputation for reliable customer support, regular firmware updates, and maintenance services. These factors contribute to your copier's long-term performance and uptime.
Cost efficiency:
Assess the copier's overall cost, including upfront price, maintenance expenses, and consumables like toner and paper. Look for energy-efficient models that reduce electricity costs and choose copiers with affordable and readily available consumables.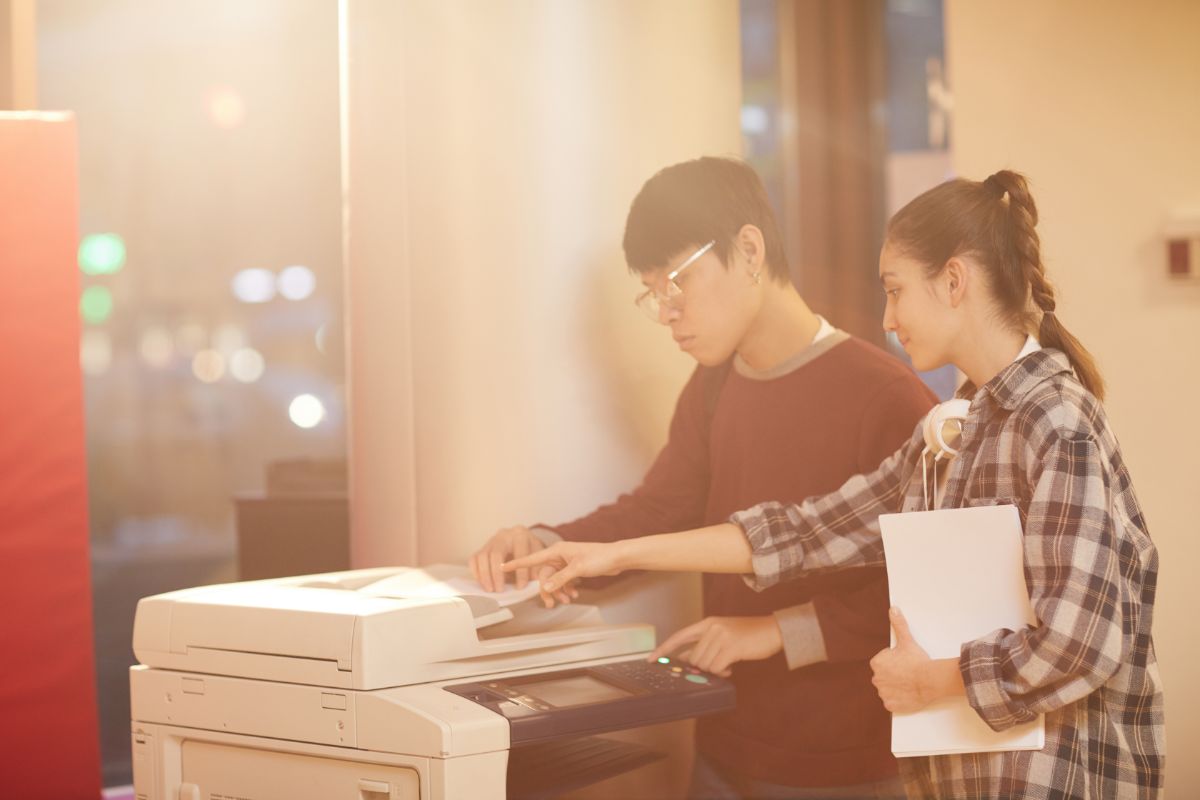 These features can help you choose a commercial copier that meets your needs, enhances productivity, and consistently produces high-quality copies.
How do I choose a commercial copier brand?
Choosing the right copier brand is crucial as it can impact on your copier's quality, reliability, and overall performance. Here are some factors to consider when selecting a copier brand:
Copier reputation and reliability: Research copier brands' reputation and track record. Look for brands with a strong market presence and a history of producing reliable and durable copiers. Customer reviews, industry awards, and recommendations from trusted sources can provide valuable insights into brand reliability.
Manufacturer copier product range: Consider the brand's product range and whether it aligns with your business needs. A reputable brand should offer a variety of copiers that cater to different volume requirements, paper sizes, and feature preferences. This allows you to choose a copier that can grow with your business.
Service and support: Evaluate the brand's service and support offerings. A reliable brand should provide responsive customer support, maintenance services, and readily available replacement parts. Check if they have a dedicated support team and a network of authorized service providers in your area.
Technology and innovation: Look for copier brands that invest in research and development, staying at the forefront of technological advancements. Innovative features such as advanced scanning capabilities, cloud integration, mobile printing options, and workflow automation can greatly enhance productivity and efficiency.
Compatibility and integration: Consider the copier brand's compatibility with your existing technology infrastructure. Ensure brand copiers integrate seamlessly with your network, software applications, and document management systems. This enables smooth data transfer, streamlined workflows, and efficient collaboration.
The total cost of ownership: Assess the overall cost of owning and operating a copier. Compare upfront costs, ongoing maintenance expenses, consumables pricing (toner, drums, etc.), and energy efficiency. Look for brands that offer cost-effective solutions without compromising quality and performance.
Industry-specific expertise: If you work in an industry with unique document requirements, consider copier brands specializing in serving that industry. They may have tailored features, software solutions, or industry-specific certifications that better address your needs.
Environmental consideration: If sustainability is a priority for your business, research copier brands that prioritize eco-friendly practices. Look for ENERGY STAR certification, energy-saving modes, recycling programs, and environmentally conscious manufacturing processes.
Warranty and extended support: Review the copier brand's warranty options. Comprehensive warranty and extended support plans can provide peace of mind and protect your investment.
Considering these factors, you can narrow your options and choose a copier brand that aligns with your business requirements. This brand offers reliable performance and excellent support throughout your copier's lifespan.
Assess your business needs and consult with printing professionals or managed print service providers to determine the most suitable printing solution that aligns with your goals and workflow.