Kyocera is a reliable brand with sleek design that can enhance your printing experience. They offer office equipment from multifunction printers, copiers, and fax machines available in black and white!
Kyocera devices are compatible with numerous business applications which make them a great option for most businesses. Furthermore, their devices have print, copy, scan, and faxing capabilities, making them competitive in today's market.
Today, we will focus on the Kyocera copy machine and what you should know about these devices. Whether you are new to Kyocera copy machines or have been using them for a while, this article is perfect for you.
Reliable copy machine when you need it:
Reliability is the most crucial factor in deciding on your office equipment. Whether investing in a copy machine or a multifunction printer, you should learn about the machine's reliability. Reliability will make or break the productivity of your equipment. Luckily, Kyocera has been recognized for its reliability and has even earned awards, including the Good Design and BLI awards. Kyocera has promised to provide high-quality equipment that will elevate your office environment to the next level. If your Kyocera copy machine is not working correctly or occasionally runs into maintenance problems, an authorized Kyocera reseller, like BDS, can provide service on your request.




Easy to use:
You want to ensure your equipment is user-friendly for the staff using this copy machine daily. Kyocera has created a solution with a user-friendly interface that is relatively easy to master. Training staff on how to use this copy machine is easy too! There are free resources online, like BDS Knowledge Base, that can help you measure and improve your team's knowledge on these devices.




High quality performance:
Kyocera copy machines are different from other copy machines on the market due to their maximum document reproduction quality. Your copies never suffer when you use these machines, as the quality will be nearly identical to the original proof. Furthermore, with different finishing options available, users can create specific and customized copies.




All the speed you could want, and more:
Time is precious, and Kyocera has found a way to create a copy machine that can meet the demands of smaller businesses and corporations. Speed is the one factor that allows Kyocera to stay competitive throughout the years. You receive high quality copies at a great speed, which makes it a phenomenal investment for most businesses looking to boost productivity.




Affordable financing options:
When you partner with BDS, an authorized Kyocera reseller, we provide affordable and flexible pricing options for businesses looking to invest in a Kyocera copy machine. Of these flexible financing options, we offer leasing and certified preowned equipment that is put through a rigorous inspection process to ensure your equipment is working as expected.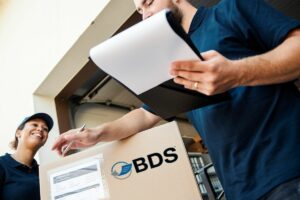 Are you ready to take the next step? Click and visit our website to request a quote on your next Kyocera copy machine, and we will connect you with a BDS representative in 48 hours!
Follow our Facebook, LinkedIn, TikTok, and YouTube channels to stay updated on the latest industry news and trends.