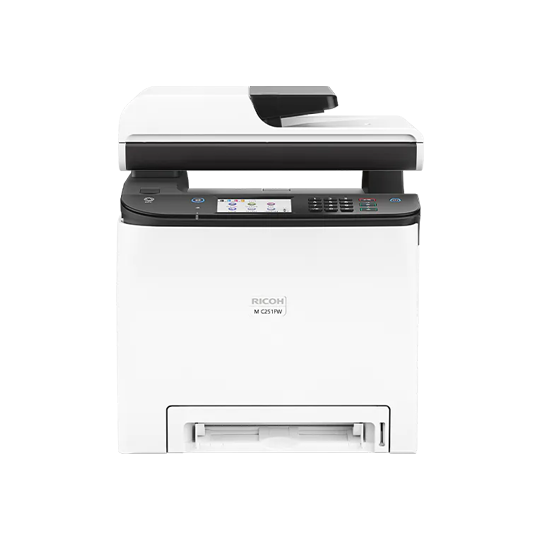 With the Ricoh M C251FW Color Laser Multifunction Printer, you can print securely and with high quality. With its all-in-one design, the RICOH M C251FW delivers big-time productivity in small spaces. This easy-to-use system provides high-quality printing up to 26 pages per minute, copying, scanning, and faxing to small work teams and hybrid office environments.
The M C251FW compact A4/Letter devices provide class-leading functionality at a low total cost of ownership. Keeping up with demand, they deliver high-quality color and black-and-white output at a rapid 25 pages per minute (A4) / 26 pages per minute (Letter). Multiple users can share these productive desktop printers because WiFi Direct makes connecting easy. A compact 4-in-1 MFP, the M C251FW features faxing capabilities. Single Pass Document Feeder (SPDF) quickly scans double-sided originals in one pass, saving time with its large color touchscreen panel.
PURCHASE/LEASE OPTIONS AVAILABLE

Engine Speed
Prints up to 26 ppm, copy, scan, fax

Resolution
2400×600 dpi max print resolution

Scan Speed
B&W: 21 ipm
Color: 12 ipm

Time to first print
Color: 9.8 seconds/B&W: 9.4 seconds
Configuration
Desktop
Technology
Laser
Warm-up time
20 seconds
First output speed:
B/W 9.4 seconds (A4 / LT SEF)
First output speed:
full color 9.8 seconds (A4 / LT SEF)
Continuous output speed
25 ppm (A4) / 26 ppm (Letter)
Memory:
standard 256 MB
Memory:
maximum 256 MB
SPDF capacity
50 sheets —
Duty cycle
65,000
Duplex
Yes
Weight
66.1 lbs. (30 kg) 55.1 lbs. (25 kg)
Dimensions:
W x D x H 16.5" x 19.4" x 18.6" (420 x 493 x 473 mm) 15.7" x 17.7" x 13.1" (400 x 450 x 334 mm)
Power source
120 – 127V 60 Hz
Interfaces
Standard: Ethernet 10 base-T/100 base-TX/1000 base-T, USB Host Type A, USB Device I/F Type B, Bluetooth (Smart Panel Only), Wireless LAN (IEEE 802.11 b/g/n) (Smart Panel Only), USB Host I/F, SD slot, NFC tag, USB Device (TypeB:1Port)
Optional: Wireless LAN (IEEE 802.11a/b/g/n), RJ45 I/F (Only Copy connect), Ethernet Print only RJ-45 network port
Hard Disk Drive
640 GB (320 GB x 2)
Printer Languages
Standard: PCL5c, PCL6, PostScript 3 (emulation), PDF direct (emulation)
Optional: Genuine Adobe® PostScript® 3™, IPDS, PDF Direct from Adobe®
Network Protocol
TCP/IP (IPv4, IPv6)
Processor Speed
Intel Apollo Lake Processor 1.6 GHz
Mobile Printing Support
Apple AirPrint™, Mopria, NFC, Ricoh Smart Device Connector
Supported Operating Systems
Windows: Windows® 7/8.1/10, Windows® Server 2008/2008R2/2012/2012R2/2016, Windows® Server 2019
MacOS: Macintosh OS X v10.12 or later
Unix: UNIX Sun® Solaris, HP-UX, SCO OpenServer, RedHat® Linux, IBM® AIX, XenDesktop, Citrix XenApp
SAP: SAP® R/3® , SAP® S/4®
Print Resolution
2400×4800 dpi
Scan Modes
E-mail, Folder, USB, SD Card, URL, FTP, SMB
Scan Speed BW Full Color
120 ipm (simplex) / 240 ipm (duplex
File Formats
Single Page: TIFF, JPEG, PDF, High Compression PDF, PDF/A
Multi Page: TIFF, PDF, High Compression PDF, PDF/A
Scanning Resolution
1,200 DPI
Type
ITU-T (CCITT) G3
Compression Method
MH, MR, MMR, JBIG
Memory Backup
1 hour
Circuit
PSTN, PBX
Transmission Speed
G3: approximately 2 seconds (200 x 100 dpi, JBIG, ITUT #1 chart TTI off, memory transmission)/G3: approximately 3 seconds (200 x 100 dpi, MMR, ITUT #1 chart TTI off, memory transmission)
Modem Speed
33.6 Kbps
Fax Resolution
Standard: 8 x 3.85 line/mm, 200 x 100 dpi
Detail: 8 x 7.7 line/mm, 200 x 200 dpi
Super fine: 8 x 15.4 line/mm, 16 x 15.4 line/mm, 400 x 400 dpi (with optional SAF memory)
SAF Memory
Standard: 4 MB (approx. 320 pages)
Optional: 60 MB (approx. 4,800 pages)
Which is Better for my Business, Buying or Leasing a Ricoh Printer?
Business printers are an essential investment for any size company. It is crucial to make it as cost-effective as possible, but at the same time, you must ensure that you invest in the right technologies to equip your employees with the tools they need to succeed. We offer several affordable purchase options in addition to flexible lease options.
Ricoh Printers that are Certified Pre-Owned
Are you on a budget? With our high-quality service and financing terms tailored to your financial needs, you can purchase or
lease
previously owned equipment at an attractive price. Our Ricoh Certified Pre-Owned copiers are clean inside and out, free of scratches, dents, scuffs, and dings, as much as we can make them.
Get a Quote for the Ricoh M C251FW