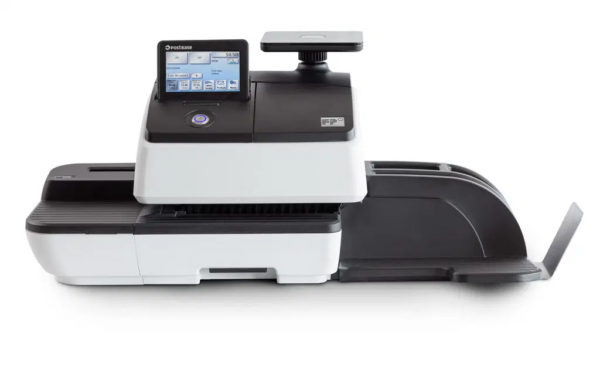 PostBase 20 Econ is the perfect mailing system for small offices. The PostBase 20 is our latest mailing system with a touchscreen and WiFi connectivity for postage and software updates. Entry-level, semi-automatic mailing system for customers processing up to $250 in postage each month. FP Mailing Solutions designed PostBase econ to be powerful yet quiet. A semi-automatic feeder enables it to process up to 20 letters per minute. It offers the lowest cost per impression in the postage meter class due to its high yield, dual ink cartridge system.
PURCHASE/LEASE OPTIONS AVAILABLE
The FP PostBase® 20 Specs

Engine Speed
Process up to 20 letters per minute


Capacity
2 Envelope Ad Capacity

Connectivity
LAN Internet Connection with Wi-Fi option
Easy-to-use color touchscreen
Rates up to 5 lbs. with integrated scale
Prints up to 20 letters per minute
Cost Account tracking – 5 accounts
Quick select rate shortcuts – 4 shortcuts
Postal rate wizard
Full set of USPS® rates and Extra Services
Automatic postal rate downloads
Envelope graphics – 6 std., 2 custom
PIN code protection
High speed internet connection (LAN)
Easy ink replacement
Dimensions
28" L x 13.6" D x 11.8" H
Expandable catch tray length
12.6" – 17.5"
System weight
19.6 lbs.
Catch tray weight
2.2 lbs.
Maximum letter thickness
0.40"
Envelope sizes
3.5" x 5" to 10" x 14"
Ink cartridge capacity (up to)
4,000 imprints
Noise
<60 dB(A)
Display
4.3" color touchscreen
Manufactured: Wittenberge, Germany
ISO-9001, 14001,45001, 50001, 27001
CE, GS, CSA, Nemko, UL Listed
Energy Star 3.0
LAN or optional Wi-Fi adapter
Envelope moistener
Wi-Fi adapter
FP Parcel Shipping online shipping application
FP Parcel Shipping 10 or 70 lb. capacity USB scale
4" x 6" shipping label printer
Get a Quote for the FP PostBase® 20
Learn more about FP Postage Meters
Considering stamped mail and postage? BDS can help!
Are you in the local New England and Florida areas deciding whether investing in a postage meter is right for you?
FP PostBase® Insight Auto
FP PostBase® Pro offers an intuitive and robust mailing system with uncompromising performance.
Postage Meter Machines: Why your business needs them
With our mail and postage solutions, BDS can help you create a cost-effective workflow and increase efficiency. Our goal is to ensure that your office runs smoothly.