Are you looking for new digital copiers for your office environment? If so, you should consider Kyocera copiers at the top of your list! BDS is a proud Platinum-level authorized dealer of Kyocera copiers and printers. We are ready to provide you with the best printing solutions in New England and Florida!
Why a Kyocera Copier?
There are a lot of capabilities that Kyocera copiers have which set them apart from others. A Kyocera copier is a high-speed and efficient option capable of copying in black and white and color. Kyocera printers are designed to perform optimally in a variety of environments, including:
Legal
Healthcare
Financial Services
Government
Education
Sales
Financial Services
Non-profit
Kyocera perfected the formula of creating digital copiers that can meet the demands of many different industries while maintaining their famous speed and efficiency.
A stellar reputation for reliability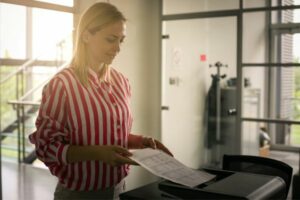 Who wants to invest in faulty and unreliable equipment? Aside from being a huge nuisance and disrupting workflows, they can also cost you a lot of money! Luckily, Kyocera has built a brand of trust and reliability among its customers with its multifunction printers and copiers.
In our experience, reliability is one of, if not the most, primary factors for businesses looking to invest in new office equipment. When you purchase a copier, you want to ensure it will last a long time.
Kyocera has won many industry awards for its reliability over the years. They consistently perform high in the reliability factor, getting better each year. This kind of reliability is hard to beat. This reliability is hard to ignore, even if there are shinier copiers on the market.
Kyocera is a sustainable option
Businesses are becoming increasingly aware of the impact that printing has on the environment. Major manufacturers of printers and copiers are listening too, providing innovative and sustainable solutions for their equipment.
Kyocera is one of the few brands pushing sustainability to their equipment's forefront. They have created a unique line of ECOSYS copiers and printers to reduce the impact on the environment and reduce costs. Kyocera makes it a point to build their copiers with fewer consumables for fewer maintenance and expenses.
People, manufacturers, and businesses sometimes can overcomplicate sustainability, making it seem more challenging. Kyocera wins points for offering a relatively simple, low-maintenance approach to sustainability that businesses can utilize for success.
Ready to get started on your next Kyocera copier? Fill out a quote today, and a BDS team member will get back to you within 2-4 hours of your request. If you want to learn more about printers, copiers, and the latest printing solutions, be sure to check out our blog for new content and follow our Facebook, LinkedIn, and YouTube channels for the latest industry news.