Are you ready to take back control over your office printing infrastructure? Now more than ever, it is the best time to invest in secure printing solutions to ensure you can print documents securely. Uniflow Print is a secure cloud print solution that can help monitor your office and mobile print jobs.
Cloud-based secure printing when you need it
If you regularly work with confidential data, Uniflow Print will be the perfect service for you. Uniflow helps users protect their print jobs by keeping them secure in the user's personal print queue until they send the print jobs to release. This minimizes the risk of submitted print jobs getting lost before being released and provides maximum security to the individual user and the company or organization.
Cloud-based technology is changing office environments around the world and for good reasons. Most of the cloud-based office solutions offered to offices focus on creating efficient and innovative ways to share, scan, and print documents. Cloud-based services have also made collaboration more accessible than ever, with capabilities to share documents seamlessly between team members. The uptick in work-from-home environments has helped tremendously with keeping team members connected.
Uniflow follows in the footsteps of other cutting-edge cloud-based solutions, allowing print jobs to track users from device to device and released on any connected printer. It is a perfect on-the-go option for businesses working in a hybrid or work-from-home model.
Control the cost of printing in your office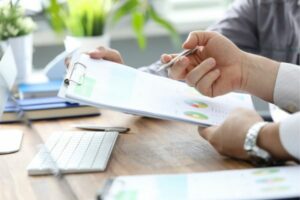 Whether you are a small business or larger, you likely have a budget you must adhere to. Allocating your funding to meaningful initiatives that will increase your business's revenue is essential, so it is important to be mindful of how much your print environment costs.
Printers can be expensive, and so can supplies. Paper, ink, and toner allocate a decent chunk of yearly spending depending on how much you print. What is worse is that some businesses are unaware of how much their business is printing, so they may be losing money on supplies that are not properly being used.
Your first course of action should be to get a print audit to gauge how much your printers are being used accurately. From there, Uniflow Print can help you manage and control printing seamlessly. Uniflow Print can create reports that can help you track, assess, and charge all printing, copying, scanning, and faxing costs.
Furthermore, the platform allows you to generate individualized reports for each user connected to your venue to help you better gauge where printing is used most and least so you can find places where savings can be made.
Get the mobile app
Does your business need mobile print capabilities? If so, uniflow is perfect for your business, as they have the Uniflow mobile app available for Apple, Android, and Windows devices, making it a diverse option that will meet most, if not all, your team's mobile devices.
The app also allows users to release print jobs in a more managed way, appearing in their secure print queue. The user can then print from any location, whether in or outside your company network. Even better, the app is free to download, which will also help you cut down on costs.
To learn more about cloud-based print management solutions, regularly check out our blog for the latest tips and tricks. Join the conversation by following our Facebook, LinkedIn, TikTok, and YouTube channels.