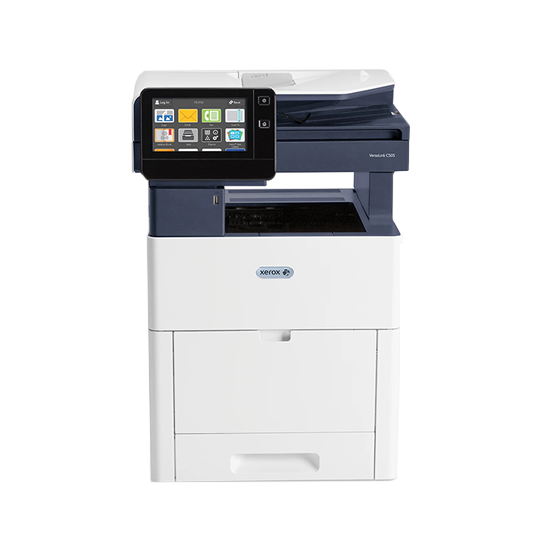 The Xerox® VersaLink® C505 Color Multifunction Printer is a robust and versatile color multifunction printer designed to meet the needs of modern businesses. It offers a range of features and capabilities to enhance productivity and streamline document-related tasks.
With its ability to print in color, the VersaLink C505 is suitable for a wide range of applications, including marketing materials, presentations, and reports. It offers high-quality color printing with sharp and vibrant results. Additionally, it can handle various document functions, including scanning, copying, and faxing, making it a comprehensive office solution.
PURCHASE/LEASE OPTIONS AVAILABLE
Xerox VersaLink C505 Specs
The Xerox VersaLink C505 color multifunction printer is a testament to Xerox's commitment to innovation and excellence.



Monthly Duty Cycle
Up to 120,000 images/month

Time to first print
As fast as 5.1 seconds black and white / 5.6 seconds color
Why Choose BDS as Your Xerox Print Partner?
As your technology partner, BDS helps you identify and eliminate your office technology pain points before they become a problem. Our support is guaranteed.
BDS is an authorized office technology provider/reseller with corporate headquarters in Marlborough, MA, and offices throughout New England and Florida. We specializing in printer and copier leasing.
We've been supporting local customers since 1978 in Massachusetts, Connecticut, Rhode Island, New Hampshire, Vermont, Maine, and Florida.
Lease or Purchase the Xerox VersaLink C505
First-page-out time, printing
As fast as 5.1 seconds black and white / 5.6 seconds color
Processor
1.05 GHz
Print memory (standard/max)
4 GB / 4 GB
Connectivity
Ethernet 10/100/1000 Base-T, High-speed USB 3.0, NFC Tap-to-Pair
Connectivity (optional)
Wi-Fi 802.11n/g/b/a and Wi-Fi Direct with optional Wi-Fi Kit (concurrent wired and wireless connections supported)
Page Description Languages (PDL)
Adobe® PostScript® 3™, HP-GL, JPEG, PCL 6, PCL® 5e, PDF, TIFF, XPS
Print features
Application Defaults, Bi-directional Real-time Status, Booklet Creation, Draft Mode, Job Identification, Job Monitoring, Personal Print, Print from USB, Sample Set, Saved Job, Scaling, Secure Print, Skip Blank Pages, Store and Recall Driver Settings, Two-sided Printing (as default), Xerox® Earth Smart driver settings
Mobile printing
Apple® AirPrint™, Mopria® Certified, Xerox® Print Service Plug-in for Android™ Printing (optional: Xerox® Workplace Cloud, Xerox® Workplace Suite)
First-page-out time, copying
As fast as 6.6 seconds color / 4.9 seconds black and white
Maximum copy resolution
600 x 600 dpi
Copy features
Automatic Background Suppression, Book Copying with Center Erase, Collation, Darkness Control, Edge Erase, ID Card Copy, Image Shift, N-up, Original Type, Reduce / Enlarge 25% to 400%, Sample Copy, Sharpness
Scan file formats
JPG, Linearized PDF (set via Embedded Web Server), PDF (single and multi-page), PDF/A, Password-protected PDF, Searchable PDF, TIFF (single and multi-page), XPS (single and multi-page)
Scan drivers
TWAIN, WIA
Scan destinations
Scan to Home, Scan to Network (Browse FTP or Browse SMB), Scan to USB, Scan to email
Standard security features
AES 256-bit Encryption, Access Controls, Audit Log, Automatic Self-Signed Certificate Creation, Certificate Path Validation, Certificate Revocation List (CRL)/Online Certificate Status Protocol (OCSP), Detection of external program falsification (XCP Plug-in), Domain Filtering, FIPS 140-2, Firmware Verification, IP Address Filtering, Immediate Disk Overwrite (requires optional HDD), Network Authentication, Port Filtering, Role Based Permissions, SNMPv3, Secure Print, Security Certificate Management, Smart Card Enablement (CAC/PIV/.NET), TLS/SSL
Output capacity
500 sheets
Document handler
Single-pass Duplex Automatic Document Feeder
Capacity: 100 sheets
Paper capacity
Tray (Multipurpose tray): 150 sheets
Tray 1: 550 sheets
Tray 2 (optional): 550 sheets
Paper size
Tray (Multipurpose tray): Custom sizes: 3 x 5 in. to 8.5 x 14 in. (76.2 x 127 mm to 216 x 356 mm)
Tray 1: Custom sizes: 5.8 x 8.3 in. to 8.5 x 14 in. (148 x 210 mm to 216 x 356 mm)
Tray 2 (optional): Custom sizes: 5.8 x 8.3 in. to 8.5 x 14 in. (148 x 210 mm to 216 x 356 mm)
Which is Better for my Business, Buying or Leasing a Xerox Printer?
Leasing Xerox printers through BDS provides several advantages, including cost savings, access to cutting-edge technology, and simplified maintenance and support. Our Xerox printers, services, and solutions are designed to deliver cost savings, enhance efficiency, and empower businesses to remain competitive.
Xerox VersaLink Printers that are Certified Pre-Owned
Are you on a budget? With our high-quality service and financing terms tailored to your financial needs, you can purchase or lease previously owned Xerox equipment at an attractive price. Our Certified Pre-Owned Xerox copiers are clean inside and out, free of scratches, dents, scuffs, and dings, as much as we can make them.