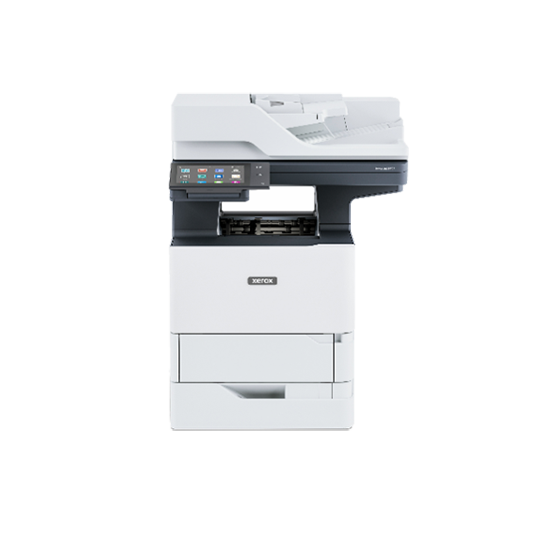 The Xerox VersaLink B625 is a versatile monochrome multifunction printer (MFP) tailored for the demands of businesses and workgroups. With its exceptional printing speed, often exceeding 50 pages per minute, it swiftly handles high-volume printing tasks. This MFP isn't just about fast printing; it's a comprehensive office solution, offering capabilities for copying, scanning, and faxing. Its connectivity options, including USB, Ethernet, and wireless, ensure compatibility with a wide range of devices, while a user-friendly touchscreen interface simplifies navigation through settings and tasks. Furthermore, the B625 series prioritizes security, safeguarding sensitive data and documents, and often includes various paper handling options and high print resolutions for enhanced productivity and print quality.
In addition to its robust functionality, the Xerox VersaLink B625 embraces modern convenience by supporting mobile printing options like Apple AirPrint and Google Cloud Print, facilitating printing from smartphones and tablets. Its commitment to energy efficiency reduces power consumption and environmental impact. While specific features and specifications may vary among different models and configurations within the VersaLink B625 series, the overall impression is of a powerful, versatile, and user-friendly monochrome MFP designed to meet the diverse needs of today's dynamic workplaces.
PURCHASE/LEASE OPTIONS AVAILABLE
Xerox VersaLink B625 Specs
The Xerox VersaLink B625 black and white multifunction printer is a testament to Xerox's commitment to innovation and excellence.



Monthly Duty Cycle
Up to 300,000 images/month

Time to first print
As fast as 4.4 seconds
Why Choose BDS as Your Xerox Print Partner?
As your technology partner, BDS helps you identify and eliminate your office technology pain points before they become a problem. Our support is guaranteed.
BDS is an authorized office technology provider/reseller with corporate headquarters in Marlborough, MA, and offices throughout New England and Florida. We specializing in printer and copier leasing.
We've been supporting local customers since 1978 in Massachusetts, Connecticut, Rhode Island, New Hampshire, Vermont, Maine, and Florida.
VIDEO: Black and White Xerox Printers Laser Printers - Cheaper than Color?
Lease or Purchase the Xerox VersaLink B625
Maximum print resolution
1200 x 1200 dpi
First-page-out time, printing
As fast as 4.4 seconds
Page Description Languages (PDL)
Adobe® PDF, Adobe® PostScript® 3™, PCL® 5c/PCL® 6
Print Features
Application Defaults, Bi-directional Real-time Status, Booklet Layout, Earth Smart Driver Settings, Encrypted Secure Print, Hold All Jobs, Job Identification, Job Monitoring, Print Around, Print from Cloud Repositories (Dropbox, OneDrive, Google Drive), Print from USB, Print on Alternate Paper, Scaling, Store and Recall Driver Settings, Two-sided Printing (as default)
Mobile printing
Xerox @PrintByXerox App, Xerox® Print Service (Android) (optional: Xerox® Workplace App (iOS/Android))
Maximum copy resolution
600 x 600 dpi
First-page-out time, copying
As fast as 4.6 seconds
Copy Features
Annotation, Authentication for Services, Auto Paper Select, Auto Reduction and enlargement, Auto Tray Switching, Automatic 2-sided/Duplex Booklet Creation, Bates Stamping, Collation, Covers, Dividers, Edge Erase, Features Help, ID Card Copy, Image Quality Adjustments, Image Shift, Invert Image, Large Job Interrupt, Multi-up, Sample Set, Save Job Settings, Touchless Workflow Accelerators
Scan destinations
Scan to Email, Scan to Home, Scan to Mailbox, Scan to Network (using Secure FTP/HTTP/HTTPS), Scan to Network Folder (using Secure FTP/HTTP/HTTPS), Scan to PC/Server Client (SMB or FTP), Scan to USB
Scan features (optional)
Mobile scanning: Xerox® Workplace Mobile App (iOS/Android), Scan to Microsoft OneDrive, Google Drive and DropBox, Other solutions available through various Xerox® Business Innovation Partners at xerox.com/Software-Solutions, Print from and Scan to Xerox® DocuShare® Go Content Management Platform, Scan to Cloud Repositories (Dropbox, OneDrive, and Google Drive), Xerox® Scanning App for DocuShare®
Standard security features
802.1x, AES 256-bit, Access Control, Audit Log, Automatic Self-signed Certificate, Cisco® Identity Services Engine (ISE) integration, Common Criteria Certification, Configuration Watchdog, Encrypted Secure Print, FIPS 140 User Access and Internal Firewall, Firmware Verification, HTTPS, IPsec, Immediate Image Overwrite for optional hard disks, Job Level Encryption via HTTPS and Drivers, Local Authentication (Internal Database), LogRhythm/Splunk SIEM integration, Network Authentication, Port/IP/Domain Filtering, SFTP and Encrypted Email, SHA-256 Hash Message Authentication, SNMPv3, Security Certificates utilizing ECDSA, Security Manager, Signed Email, TLS 1.1/TLS 1.2/TLS 1.3, TPM, Trusted Boot, User Permissions
Optional security features
Hard Disk (AES 256-bit) with multi-pass Image Overwrite (coming soon), Xerox® RFID Card Reader, Xerox® Workplace Cloud/Suite Print Management and Content Security)
Which is Better for my Business, Buying or Leasing a Xerox Printer?
Leasing Xerox printers through BDS provides several advantages, including cost savings, access to cutting-edge technology, and simplified maintenance and support. Our Xerox printers, services, and solutions are designed to deliver cost savings, enhance efficiency, and empower businesses to remain competitive.
Xerox VersaLink Printers that are Certified Pre-Owned
Are you on a budget? With our high-quality service and financing terms tailored to your financial needs, you can purchase or lease previously owned Xerox equipment at an attractive price. Our Certified Pre-Owned Xerox copiers are clean inside and out, free of scratches, dents, scuffs, and dings, as much as we can make them.