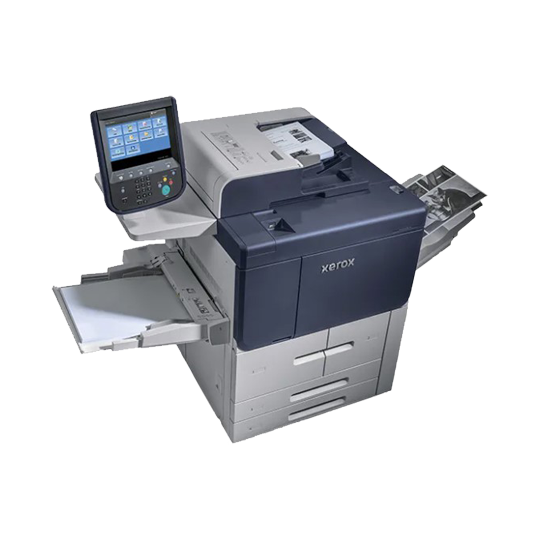 The Xerox® PrimeLink® B9136 Series Copier/Printer's commitment to exceptional document quality and seamless performance is evident in its cutting-edge technology and advanced features. The device is designed to handle large print jobs confidently and efficiently. You can rely on it to handle demanding workloads without downtime or interruptions, which is crucial for businesses with high-volume printing needs.
With a resolution of 2400 x 2400 dpi and print speeds up to 136 PPM, this device offers high-quality print output. PrimeLink B9136 handles a wide range of paper weights and sizes. It ensures accurate, precise output even when printing at rapid speeds, reducing paper jams. Copier-printer Xerox® PrimeLink® B9136 Series provides exceptional quality, reliability, and performance. With high-resolution printing capabilities, proactive monitoring, and automation features, it is an ideal solution for businesses seeking to maintain professional standards.
PURCHASE/LEASE OPTIONS AVAILABLE
Xerox PrimeLink B9136 Specs
The Xerox PrimeLink B9136 Copier/Printer is a testament to Xerox's commitment to innovation and excellence.



Monthly Duty Cycle
70,000 – 700,000 pages per month

Time to first print
3.9 seconds or less
Why Choose BDS as Your Xerox Print Partner?
As your technology partner, BDS helps you identify and eliminate your office technology pain points before they become a problem. Our support is guaranteed.
BDS is an authorized office technology provider/reseller with corporate headquarters in Marlborough, MA, and offices throughout New England and Florida. We specializing in printer and copier leasing.
We've been supporting local customers since 1978 in Massachusetts, Connecticut, Rhode Island, New Hampshire, Vermont, Maine, and Florida.
Lease or Purchase the Xerox PrimeLink B9136
Monochrome Xerographic Engine
– AMPV: 70,000-700,000 ppm
– Duty Cycle: 2.5 million pages per month (A4, 8.5 x 11 in. simplex)
Print/Copy speeds
– 100/110/125/136 ppm – 8.5 x 11 in. (A4)
– 56/69/78/82 ppm – 8.5 x 14 in. (B4)
– 50/55/62/68 ppm – 11 x 17 in. (A3)
– 34/55/55/55 ppm* – 12×1
First copy out time
– B9100: 4.6 seconds or less
– B9110/B9125/B9136: 3.9 secs. or less
Simplex or duplex scanning at up to 270 images per minute (ipm)
Up to 1200 x 1200 dpi RIP resolution up to 2400 x 2400 dpi print resolution
with halftone screen 106 lpi (default) or 150 lpi (high quality mode)
Front to back registration: +/- 0.8 mm
Image Registration Control Technology (IReCT) for real time measurement
and correction of each sheet as it runs through the engine
Automatic Meter Read (AMR) capable (where available)
Paper sources
4 standard, plus bypass
Standard paper capacity
4,050 sheets
Maximum paper capacity with options
8,050 sheets
Media Dimensions – Minimum
4″ x 6″ (with optional Two-Tray Oversized High Capacity Feeder)
Media Dimensions – Maximum
13″ x 26″ (SRA3 / 330 x 660 mm) (with optional Oversized High Capacity Feeder)
Media Weight – Minimum
60 gsm
Media Weight – Maximum
350 gsm
Finisher
Xerox® Production Ready Finisher
Produces superior quality finishing and stacking with a 500-sheet top tray and 3,000-sheet stacker tray and built-in bi-directional decurler.
Xerox® Production Ready Finisher Plus
Provides same function as the Production Ready Finisher. Used to connect third-party inline finishing options.
Booklet Making
Xerox® Production Ready Finisher Booklet Maker
Ensures consistent high-quality stapled sets for small or large documents with a variable-length stapler, single or dual stapling option and a 100 sheet capacity. Plus, creates stapled booklets up to 30 sheets or 120 imposed pages (uncoated), or 15 sheets or 60 imposed pages (coated).
Plockmatic Pro 50/35 Booklet Maker
Highest quality production booklets up to 200 pages (up to 50 sheets). Face trimming, square fold, rotate crease and bleed trim.
Hole Punch
Xerox® Basic Punch
An option for punching 2/3, 2/4 and Swedish 4-hole on the Production Ready Finisher and Booklet Maker.
GBC® AdvancedPunch Pro™
Lets you create bound documents in-house by combining printing, punching and collating into one convenient step. Choose the punch to fit your needs.
Folder
Xerox® C/Z Folder
Produces Z-fold, C-Fold and Engineering Z-Fold.
Stacker
Xerox® High Capacity Stacker with Rollaway Cart
Enables stacking and offsetting for 5,000 sheets up to 350 gsm, using standard size
Inserter
Xerox® Inserter
Inserts 250 preprinted or blank sheets into finishing for preprinted covers. Standard on all Finishers.
Other Finishing Options
Xerox® Interface Decurler Module
Inline paper cooling and decurler unit improves throughput and efficiency, ensuring flat sheets for reliability and speed. Required for all system configurations with GBC® Advanced Punch™ Pro, Xerox® High Capacity Stacker.
Secure Print, Password Protected PDF, FIPS 140-3 NEW NIST 800-171 (Integrated Server only), IPsec, SNMP v3.0, TLS (1.3)/SSL, Image Overwrite, Hard Disk Data Encryption, Remote Authentication with LDAP, SMB, or
Kerberos, CaC/PIV (Common Access Card/ Personal Identity Verification), and SIPRNet Smartcard authentication
• 256 Bit Encryption
• Common Criteria Certification
• Job-based Accounting (Xerox® PrimeLink®
B9136 Copier/Printer only
Which is Better for my Business, Buying or Leasing a Xerox Printer?
Leasing Xerox printers through BDS provides several advantages, including cost savings, access to cutting-edge technology, and simplified maintenance and support. Our Xerox printers, services, and solutions are designed to deliver cost savings, enhance efficiency, and empower businesses to remain competitive.
Xerox PrimeLink Printers that are Certified Pre-Owned
Are you on a budget? With our high-quality service and financing terms tailored to your financial needs, you can purchase or lease previously owned Xerox equipment at an attractive price. Our Certified Pre-Owned Xerox copiers are clean inside and out, free of scratches, dents, scuffs, and dings, as much as we can make them.