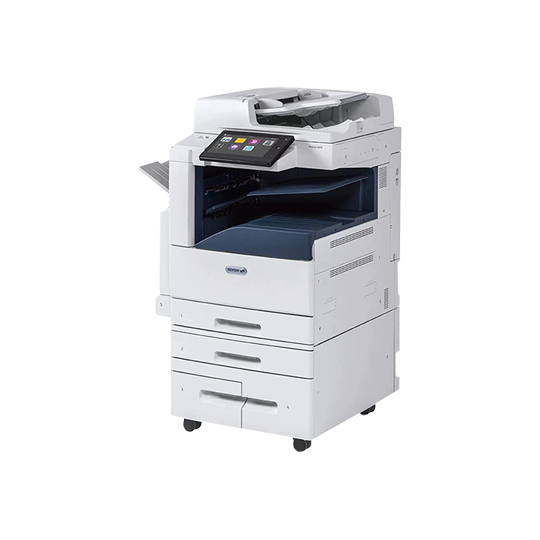 The Xerox AltaLink C8055 is a versatile all-in-one multifunction device designed to excel at many office tasks. From printing and copying to scanning and faxing, this user-friendly device combines these diverse functions into a cohesive unit. The result is increased office efficiency, eliminating multiple devices and simplifying essential document-related tasks.
One of the remarkable hallmarks of the Xerox AltaLink C8055 is its unwavering commitment to speed. With Xerox's dedication to high-performance printing, this printer consistently achieves rapid print rates, boasting up to 55 pages per minute for color and black-and-white documents. Whether you're producing vibrant marketing materials or monochrome business reports, this device ensures your documents are ready quickly and efficiently.
PURCHASE/LEASE OPTIONS AVAILABLE
Xerox AltaLink C8055 Specs
A multifunctional color printer meticulously crafted for medium to large-size business environments, Xerox AltaLink C8055 provides a robust document management solution.

Engine Speed
Color: up to 50 ppm
Black: up to 55 ppm

Resolution
1200 x 2400 DPI

Monthly Duty Cycle
Up to 300,000 pages / month

Time to first print
6 seconds color / 4.7 seconds black-and-white
Why Choose BDS as Your Xerox Print Partner?
As your technology partner, BDS helps you identify and eliminate your office technology pain points before they become a problem. Our support is guaranteed.
BDS is an authorized office technology provider/reseller with corporate headquarters in Marlborough, MA, and offices throughout New England and Florida. We specializing in printer and copier leasing.
We've been supporting local customers since 1978 in Massachusetts, Connecticut, Rhode Island, New Hampshire, Vermont, Maine, and Florida.
Lease or Purchase the Xerox AltaLink C8055
Connectivity
Ethernet 10/100/1000 Base-T, High-speed USB 2.0 direct print, Near Field Communication (NFC) (optional: Wi-Fi Direct with optional Xerox USB Wireless Adapter)
Controller features
Configuration Cloning, Remote Control Panel, Unified Address Book
Hard drive
250 GB (min)
Processor
Dual-core 1.91 GHz
Page Description Languages (PDL)
Adobe® PDF version 1.7, Adobe® PostScript® 3™, PCL® 5c, PCL® 6, (optional: LAN Fax (requires optional Fax Kit))
Maximum print resolution
1200 x 2400 dpi
Print features
Application Defaults, Banner Sheet Enable / Disable, Bi-directional Real-time status, Booklet Layout, Cover Selection, Custom Color Options (Color By Words), Delay Print, Encrypted Secure Print, Finishing, Fit to New Paper Size, Hold All Jobs, Image Options, Imaging Security, Job Monitoring, Job identification, Layout/watermark, Long Sheet/Banner, N-up, Paper Selection by Attribute Sample Set, Print From Cloud Repositories, Print from USB, Sample Set, Saved Job, Scaling, Secure Print with Timed Deletion, Special Pages, Store and Recall driver settings, Sustainability Features (Xerox Earth Smart Settings, Duplex, N-up, Turn-off Banner and Print ID, Smart Sample Set, Hold All Jobs), Two-sided Printing (default), User Permissions, Watermark
OS support
Mac OS 10.10, Mac OS 10.11, Mac OS 10.8, Mac OS 10.9, Mac OS 12, Redhat® Fedora® Core 20 x86, Ubuntu® 14.04 x64, Windows Server 2012 R2 (32- and 64-bit), Windows® 10 (32- and 64-bit), Windows® 11, Windows® 2003 Server SP2 R2 (32- and 64-bit), Windows® 2008 Server R2 (32- and 64-bit), Windows® 7 (32- and 64-bit), Windows® 8 (32- and 64-bit), Windows® 8.1 (32- and 64-bit), Windows® Vista SP2 (32- and 64-bit), openSUSE® 13.1 x64
Mobile printing
@PrintByXerox App, Apple AirPrint, Mopria® Certified, Mopria® Print Service Plug-in for Android, QR Code App, Xerox® App Gallery, Xerox® Mobile Link App, Xerox® Print Service Plug-in for Android (optional: Xerox® Mobile Print, Xerox® Mobile Print Cloud)
Document handler
Single-pass Duplex Automatic Document Feeder
Capacity: 130 sheets
Size: 3.4 x 4.9 in. to 11.7 x 17 in.
(85 x 125 mm to 297 x 431.8 mm)
Maximum paper capacity
5,140 sheets
Paper capacity
Tray (Bypass tray): 100 sheets
Tray 1: 520 sheets
Tray 2: 520 sheets
Tray (High-capacity tandem tray): 2,000 sheets
Tray (High-capacity feeder) (optional): 2,000 sheets
Tray (Envelope tray) (optional): 60 envelopes
Paper size
Tray (Bypass tray): Sizes: #10 Commercial, A6, C5 Envelope, DL Envelope, Large US Postcard, Monarch; Custom sizes: 3.5 x 3.9 in. to 12.6 x 19 in. (89 x 98 mm to 320 x 483 mm)
Tray 1: Custom sizes: 5.5 x 7.2 in. to 11.7 x 17 in. (140 x 182 mm to 297 x 432 mm)
Tray 2: Custom sizes: 5.5 x 7.2 in. to 12 x 18 in. (140 x 182 mm to 320 x 450 mm)
Tray (High-capacity tandem tray): Sizes: A/letter, A4
Tray (High-capacity feeder) (optional): Sizes: A/letter, A4 long edge feed
Tray (Envelope tray) (optional): Custom sizes: 3.9 x 5.8 in. to 6.4 x 9.5 in. (98 x 148 mm to 162 x 241 mm)
Finishing options
Dual Offset Catch Tray: 500-sheet tray
Face up Tray: 100-sheet tray
BR Finisher (Optional): 2-hole punch, 3-hole punch, Multi-position stapling, 500+3000-sheet tray
BR Booklet Maker Finisher: 2-hole punch, 3-hole punch, Booklet maker, Multi-position stapling, V-folding, 500+1500-sheet tray
C Fold / Z Fold Unit (Optional): adds Z-folding, Letter Z-folding, Letter C-folding to the BR Finisher and BR Booklet Maker Finisher
Convenience Stapler (Optional): includes Work Surface, 50-sheets
Standard security features
AES 256-bit Encryption (FIPS 140-2 compliant), Access Controls, Audit Log, Common Criteria Certification (ISO 15408) (undergoing evaluation), Encrypted Secure Print, HDD Overwrite, Imaging Security, McAfee ePolicy (ePO) Compatible, McAfee® Embedded, Network Authentication, SHA-256 Hash Message Authentication, SNMPv3, Secure Email, Secure Fax, Secure Scan, TLS, User Permissions
Optional security features
McAfee Integrity Control, Smart Card Enablement Kit (CAC/PIV/.NET), Xerox® Integrated RFID Card Reader E1.0
Maximum copy resolution
600 x 600 dpi
Copy features
Annotation, Authentication for Services, Auto Paper Select, Auto reduction/enlargement, Auto tray switching, Automatic 2-sided / Duplex Booklet Creation, Bates Stamping, Build Job, Collation, Covers, Dividers, Edge erase, Features Help, ID Card Copy, Image Quality Adjustments, Image shift, Imaging Security, Invert image, Large Job Interrupt, Multi-Up, Sample set, Save Job Settings, Single Color, Stapling, Touchless Workflow Accelerators, Transparencies
Which is Better for my Business, Buying or Leasing a Xerox Printer?
Leasing Xerox printers through BDS provides several advantages, including cost savings, access to cutting-edge technology, and simplified maintenance and support. Our Xerox printers, services, and solutions are designed to deliver cost savings, enhance efficiency, and empower businesses to remain competitive.
Xerox Printers that are Certified Pre-Owned
Are you on a budget? With our high-quality service and financing terms tailored to your financial needs, you can purchase or lease previously owned Xerox equipment at an attractive price. Our Certified Pre-Owned Xerox copiers are clean inside and out, free of scratches, dents, scuffs, and dings, as much as we can make them.