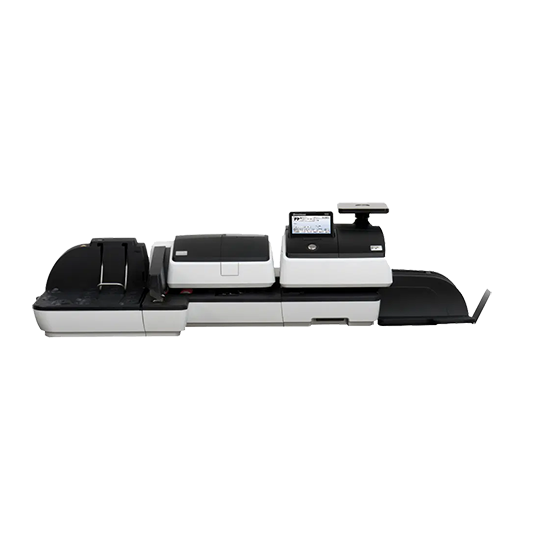 For offices, PostBase® Pro offers an intuitive and robust mailing system with uncompromising performance. High-tech capabilities and an award-winning design make this machine extremely efficient. With a high-capacity catch tray that can hold up to 350 finished envelopes, the PostBase® pro can handle mixed-sized mail by simply placing your mail in the self-adjusting feeder and letting the machine do the rest. PostBase® pro is one of the most secure mail machines on the market, as one of the first USPS® IMI-compliant meters. You can further streamline your mailing process with folder inserter solutions for the modern age.
Put a stack of mail on the scale and send it through one by one. Each piece of postage is calculated by PostBase® pro. Precision weighing of small packages or thick letters is possible with the 15 lb standard scale.
PURCHASE/LEASE OPTIONS AVAILABLE

Engine Speed
Processes up to 140 letters per minute

Weight
Rates up to 15lbs with integrated scale

Capacity
High capacity catch tray that can hold up to 350 finished envelopes

Technology
USPS® IMI-Compliant Security
Advanced, large format auto feeder
Anti-skew rollers for mixed mail
Differential weighing scale
SealCheck envelope security with sealing status light
Adjustable flow sealing
Adjustable 4.3" color touchscreen
Rates up to 15 lbs. with integrated scale
Prints up to 140 letters per minute
Up to 20 quick select rate shortcuts
Up to 200 Cost Accounts
Cost Account Printing (via ReportOne™)
Rate Wizard for selecting USPS® Postal Products
Full selection of USPS® rates and extra services
Automatic postal rate downloads
Integrated label dispenser
PIN code access protection
Envelope graphics – 6 std., 30 custom
Envelope text message (via RemoteOne™) – 12 custom
Easy ink replacement
ReportOne™ (Account management postal software)
FP Parcel Shipping online application – USPS®
Dimensions:
37.6" L x 17.3" D x 11.6" H
Expandable catch tray:
length 12.6" to 17.5"
System weight:
48.1lbs
Catch Tray weight:
2.2 lbs
Maximum letter thickness:
0.40"
Envelope sizes:
4.6" x 6" to 10" x 14"
Ink cartridge capacity (up to):
18,000 imprints
Noise:
<70 dB(A)
USPS® IMI Approved Postage Solution
Energy Star 3.0
LAN or optional Wi-Fi adapter
Wi-Fi adapter
High capacity envelope catch tray
Cost Account upgrade – 200
External PC scale – 30 or 70 lbs.
FP Parcel Shipping – multi carrier option
FP Parcel Shipping 10 or 70 lb. capacity USB scale
4" x 6" shipping label printer
MailOne™ (Mail management & parcel shipping software)
Get a Quote for the PostBase® Pro Postage Meter
About Us
BDS is an authorized office technology provider/reseller with corporate headquarters in Marlborough, MA, and offices throughout New England and Florida. We specializing in printer and copier leasing. We've been supporting local customers since 1978 in Massachusetts, Connecticut, Rhode Island, New Hampshire, Vermont, Maine, and Florida.