If you want to improve your office environment's productivity and organization, print automation is the best choice for you. Whether you have a small or a large business, you have many machines you need to manage, including printers, copiers, scanners, and other devices.
Ensuring these devices work optimally with little to no slow start-up time is essential to business success. Businesses often waste many of the machines they are paying for because employees never even use them! That is where print automation can help.
What is print automation?
Print automation helps businesses analyze their print environment for administrators and business owners to become more strategic about the equipment they keep in their offices. It will ensure that print jobs are processed smoothly and timely.
Print automation is great for businesses looking to change their approach to print production in their office environment. With print automation, you can better gauge your printer functionality, security, data retrieval capabilities, and more!
What will print automation offer my business?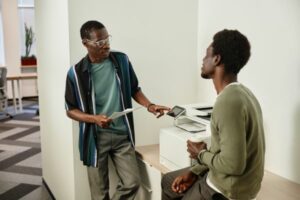 There are many benefits to print automation that are worth highlighting, including:
Maintain low printing costs:
How much money are you wasting annually on printing? Whether that is wasted paper or paying for expensive equipment that never gets used, not being in control of how much you spend is no fun for anyone. With automation, you can eliminate unnecessary equipment, systems, or materials that may bog your business down financially. Instead of wasting money on printing, redistribute that money to more meaningful and productive initiatives!
A good indicator of printer health:
There is undoubtedly a correlation between printer health and regular print automation. You can reduce many errors and malfunctions that may be affecting your print jobs before production, making it an efficient and proactive option for protecting the health of your printer. Furthermore, automation works best when performed regularly, as it can adapt to technological advances while keeping your equipment in great shape.
Security:
Are you constantly working with confidential data? Even if not, security is important, and print automation can ensure that security stands as the foundation of superior workflows. Print automation will protect your print environment from an invasion of hackers ready to compromise your printer network. This is becoming increasingly common as the printing industry becomes highly advanced and technical.
Is print automation for everyone?
Absolutely. Though not a requirement, it is still a great idea to have print automation performed so you can better understand how your printers work and how you can use your equipment to its fullest abilities. Furthermore, it is an excellent option for analyzing workflows.
Print automation only wants to see your business succeed and is designed to find ways to improve by highlighting both real and imagined threats to the success of your equipment.
Final Considerations
Print automation is a cost-efficient option to help eliminate unnecessary parts of your business print environment or workflow. You can save time from dealing with unexpected issues with your printers or systems by incorporating print automation and re-direct your energy to more fulfilling projects at work.
If you are ready to jump into print automation, BDS can help! We have service technicians prepared to provide you with the highest quality of service and answer any lingering questions you may have.
BDS is different from most print companies because we take the time to follow up beyond installing any systems or equipment. You can rest assured that we can help train and educate you on your equipment if you partner with us. We are in this together! Request a quote today to get started.
Wanna stay updated on the latest industry news and trends? Follow BDS Facebook, LinkedIn, and YouTube channels for the latest content! Be sure to also check out our blog for tips, tricks, and information on printers, copiers, managed print services, and more office solutions!