Postbase is a specific brand of postage meters available to large and small businesses that help you easily send and manage your mail. Postbase has a wide range of postage meters available to meet the specific needs of your business and industry. Today, we will focus on the FP Postbase mini.
How is the FP Postbase mini different from other models?
This postage meter is designed specifically for small businesses in mind. Small businesses often need help to keep up with postage expenses, especially with a solid mailing system on their side. The FP Postbase mini aims to solve this problem by creating an easy and intuitive interface to help you better manage your mail.
The FP Postbase mini features many attractive features, including:
Full-color touch screen
Whisper quiet machine
Metered mail discounts
Long lasting ink cartridges
Postage 24/7
These are only a few of the highlights that make these machines great. The diverse capabilities of these devices make them an excellent option for businesses that want to address multiple concerns with one device.
How will the FP Postbase mini benefit my business?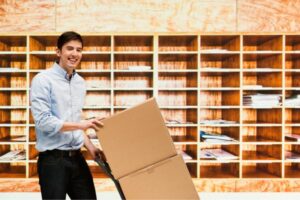 It will be hard to find another postage machine that challenges the strengths of the FP Postbase Mini due to its compact size, quiet operation, and high speed. Regarding speed, this is not an area to be concerned with. Do not let the small size of this machine fool you; it packs a punch with the ability to process up to 17 letters per minute.
The benefits do not stop there, either. With a built-in five-pound scale, these devices make simple weighing easier and more convenient. The full-color touchscreen is intuitive, with color icons, making it easier for employees to operate the device.
Small business needs to save money where they can, and this device can help as the postage meter will reduce your postage costs due to commercial-based pricing for shipping. Overall, these benefits work together to create a competitive FP mailing solution that will help elevate your business to new heights.
BDS has a full line of postage meters available to help with your mailing needs. Learn more about our mailroom solutions by clicking here. Follow our Facebook, LinkedIn, YouTube, and TikTok channels for the latest industry news and trends.