Do you love and extensively use Xerox office equipment? If so, you will love their efficient software solution, Xerox Smart Start! Xerox has a stellar reputation for delivering the highest quality, speed, and efficiency for offices worldwide! With its sleek design and multiple capabilities, Xerox is a popular office equipment brand.
Many offices across the globe are searching for the best software solution to help complete tasks like printing and scanning on your printing equipment. Finding the correct printer driver to download can be tricky and laborious. Xerox remedies these issues with Xerox Smart Start, a software solution that handles multiple print jobs with little to no slowdown time!
How will Xerox Smart Start operate in my print environment?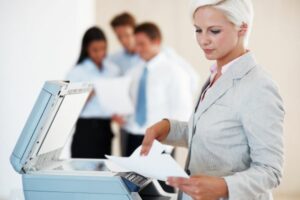 Xerox identifies Xerox Smart Start as a printer installer that helps users get to printing and scanning as quickly as possible. It is an efficient option requiring only a download instead of more industrial equipment. Even better, it's a free download option!
When you download the app, the software discovers all available networks on your network to connect to. You can find available printers on the device you are printing from and choose the appropriate machine you want to install the software on.
Following connecting your printers, the printer is created on your computer that you will be printing, scanning, or copying from. A notable highlight of Xerox's new software is that it is a standalone installer, which means you don't have to install the software onto your pc, which can be arduous.
Is Xerox Smart Start right for me?
Do you have machines in your office environment that are challenging to pair with specific software? If so, Xerox Smart Start is perfect for you. It will provide recommendations on which driver will best suit your machine.
Furthermore, other key features will be a deciding factor as to whether Xerox Smart Start will be great for your office environment, including the following:
Ability to smartly discover printers to install on your network
Easily upgrade
Advanced installation options available for technical users
Support across Windows 7, 8.1, and 10
To learn more about the key features of Xerox Smart Start, click here.
Ready to get started?
There's no need to call a service technician to set up Xerox Smart Start. All you need to do is download the app! Installing the app is intuitive; from there, you can get started with elevating your print environment to work more efficiently.
If you are interested in leasing or purchasing Xerox multifunction devices, BDS can help! We are certified dealers of Xerox equipment, which means you receive reliable and high-quality office solutions when you partner with BDS! Choose BDS for your printing services and solutions, and you will receive top-of-the-line service and support!
To stay updated on the latest industry news and trends, check out our blog and follow our Facebook, LinkedIn, and YouTube channels.