Technological advancement is necessary for a growing business in the digital age. Cloud based managed print services are at the forefront of innovation happening in offices across the world. With a strong cloud print management system, you can rest assured that your business will be able to elevate to the next level.
Cloud services are great for adapting to an increasingly digital age, but that is not where the benefits end. You can save time, labor, and money with the right cloud-based print management system.
So, what is cloud print management?
You have heard of the term 'cloud' if you work in any office environment. In general, the cloud refers to a virtual space on the internet. Thus, cloud printing is the process of using the cloud to optimize how your printer functions successfully in your office environment.
Despite the similarities in the names, cloud printing and cloud print management are different. With cloud printing, you can innovate your office environment with mobile printing and easily share digital files.
Cloud printing is a much more efficient option in printing environments today. The ease of using cloud printing, efficiency, and cost-effectiveness make it an attractive option for businesses. Many advantages to using cloud printing are worth exploring if you are considering this option.
Cloud print management services can do all the same that cloud printing can do and more! These print services are a more advanced option that may be useful to businesses looking to do more high-volume printing. Cloud print management offers control and oversight to administrators regarding the documents being shared and printed in their offices.
Increasingly, many businesses are using cloud based managed print services to store all their confidential data due to the ease of use and high storage capabilities. In the past, many businesses relied heavily on bulky industrial machines to manage their documents. These machines were loud, took up lots of space, and experienced breakdowns, slowing printing and workflows.
With cloud print management, there is no need for bulky equipment because everything is digital. Furthermore, with all information being stored on the cloud, you can connect multiple devices to the cloud without experiencing excessive wait times.
How will cloud print management bring my business to the next level?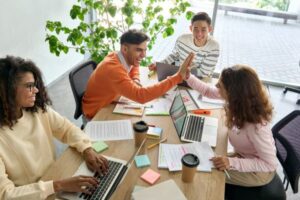 What is interesting about using a cloud based managed print service is that the benefits have a rippling effect when looking at the digital aspect. For instance, because this is a cloud-based print management solution, there is an opportunity for a hybrid work environment. A hybrid work environment can save your business money on operational costs and boost employee satisfaction.
This is only one example of how these print management solutions create a rippling effect in your office environment. However, there are some strengths that stand out that you should keep an eye out for.
Save a dollar or two!
Any opportunity to save money is great, especially if you still receive high-quality service. Luckily with cloud print management services, you lower the financial costs of using physical equipment while reducing energy usage and costs.
Print on the go with ease!
Technology is constantly changing and advancing. Having an option designed to adapt to the changing landscape is a game changer in ensuring workflows remain highly efficient and productive. Furthermore, you can print from any print server through secure user authentication.
Redirect your IT team to more meaningful activities!
Your IT department is an essential part of ensuring the success of your business, and the last thing any business wants is to waste its team's talent on trivial tasks like printer maintenance. A third party manages a cloud print management service, so your IT team does not have to leave their important tasks behind.
Are Cloud Print Management services right for everyone?
We think so! The strengths are hard to deny, including the ease of use, cost-effectiveness, and remote-friendly capabilities. Of course, deciding whether this is the best option for you depends upon the unique challenges and circumstances of your business and industry.
If cost is a concern, BDS is ready and available to discuss some cost-effective options for cloud print management services. We have BDS service technicians ready to answer any concerns or questions.
Stay up to date on the latest industry news and trends by following our Facebook, LinkedIn, and YouTube pages and blog!