Do you regularly print confidential data? Are your document workflows secure? Secure document scanning services can ensure that workflows are efficient, and documents are secure. If you still need to go paperless, these services are a fantastic opportunity to adopt a more innovative and efficient system.
Businesses regularly working with sensitive data know how important it is to ensure security when working with document scanners. Document scanners can store and manage data in volatile memory, meaning the information is deleted as soon as the document is delivered to the device or destination intended to go to.
In office settings, multifunction printers are often used and retain scanned image data, posing a potential information security risk. Businesses work diligently to reduce the risk of potential threats but are not always sure what the options available are.
Why should I use a document scanning service?
The biggest strength a secure document scanning service can offer your business is its digital capabilities, making it an ideal fit for hybrid and remote work environments. Furthermore, document scanning services can help reduce the amount of clutter in your offices.
We can all imagine the image of an office space cluttered with dozens of filing cabinets and stacks of drawings in big industrial drawers. Whether those big storage spaces have a dedicated space in your building, such as a basement or record room, or are in your primary office space, they can be a considerable distraction and minimize the mobility of your environment.
Cabinets and gigantic storage space also make searching for documents tiresome for employees. Usually, most businesses organize their records in alphabetical order. However, if one team member misplaces a file, finding the important document and file can take hours.
Storing and managing digital files with a secure document scanning service will relieve headaches, free up space, and provide better workflow in your office environment. With offices worldwide incorporating innovative digital technologies to improve workflows, you can be on the side of innovation and change by integrating these services into your business infrastructure.
Aside from better security and control, how else will secure document scanning services benefit my business?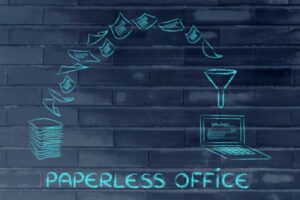 The advantages of secure document services continue beyond security and control. You also receive significant benefits from incorporating these systems into your office, including lower costs, stronger data preservation, and sustainability!
Cut costs with innovative technology
Businesses want to be strategic with their budget and ensure they are allocating funds to appropriate departments, systems, and equipment to help them grow. Document scanning is a cost-effective option for those wanting to reduce the cost of managing physical documents.
Storing records, whether onsite of your business or elsewhere, can be costly. The cost of filing cabinets, boxes, printing, and mailing materials can add up! Furthermore, as your business begins to grow, so do your files. You may eventually run out of physical room to store your documents and have to rely on paying for a new office or storage space solely for documents.
Not only does this waste money, but it wastes time and can be laborious. Investing in a strong and secure document scanning system makes things easier for yourself while saving a dollar.
Encourage collaboration among your team
A team that collaborates is stronger together. With document scanning services, your team can easily and securely share documents and files to collaborate on projects. The ease of transferring and sharing documents is attractive to team members. Printing out the document and bringing it to their teammates physically can be tedious and unnecessary. This strength can apply to team members working in hybrid or remote environments, encouraging cross-departmental collaboration.
More time for critical projects
As we mentioned, when working with physical documents, it can take 30 minutes to a few hours to find the correct file. This time spent pulls your team members away from performing more crucial and beneficial activities for your business. With a secure document scanning service, your team members can find and send files within seconds and return to their tasks, boosting productivity.
An eco-friendly option
It's no secret that paper is one of the biggest wasted resources in office environments worldwide. Offices are wasting, on average, 10,000 sheets of paper annually. This is horrible for the environment and also costs your business money! You can reduce your carbon footprint by adopting a document scanning service to reduce the thousands of sheets of paper wasted in a year.
Plus, highlighting the environmental impact your team will be making by adopting a digital document storage system can help boost employee morale and make team members feel like they are part of a more significant movement.
Ready to make the jump?
The benefits of secure document management services are hard to ignore. If you are committed to elevating your business to a more efficient and successful level, take the leap today and let BDS help implement the perfect document scanning system.
With over 40 years of experience serving our local New England and Florida communities, we are committed to providing you with the best of the best in technology, support, and education for your office solutions.
Our document management systems are reliable and scalable, allowing you to automate your print workflows and streamline any scanning, storing, or sharing of data at a high level of security. Learn more about how BDS document management systems can benefit your business.
Do you want to stay up to date on all that's new regarding company events, industry news, and trends? Be sure to subscribe to our Facebook, LinkedIn, and YouTube channels and our blog.