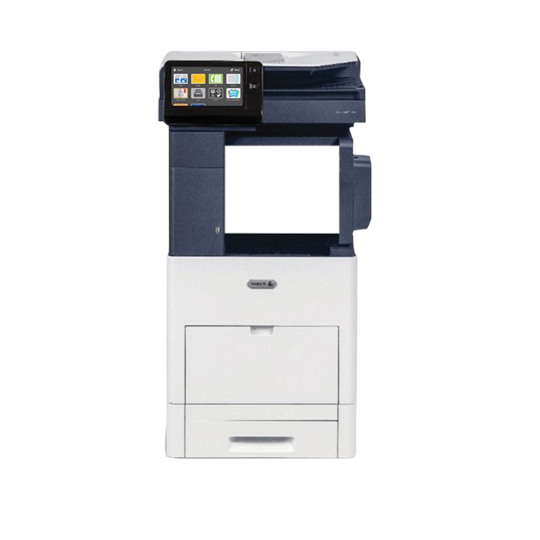 With the VersaLink® B615 multifunction printer, you get a fast, full-featured, and office-friendly device that is much more than just a black-and-white printer. VersaLink® redefines Xerox's workgroup productivity standard. With this highly configurable, cloud-connected workplace assistant, you can access completely enhanced capabilities at a competitive price, whether at work or home.
VersaLink® B615 devices are loaded with features that reduce inefficiency. The time-saving Remote Control Panel allows you to manage your devices and train your users from anywhere. With built-in optical character recognition (OCR), you can do more with scanned documents and ensure information accuracy. Its 7-inch color touchscreen lets you perform tasks and functions like a mobile device.
PURCHASE/LEASE OPTIONS AVAILABLE
Xerox VersaLink B615/XL Specs

Engine Speed
Color: up to 58 ppm
Black: up to 65 ppm

Print Resolution
1200 x 1200 dpi

Monthly Print Volume
Up to 300,000 images/month

Time to first print
As fast as 3.7 seconds
Why Choose BDS as Your Print Partner?
As your technology partner, BDS helps you identify and eliminate your office technology pain points before they become a problem. Our support is guaranteed.
BDS is an authorized office technology provider/reseller with corporate headquarters in Marlborough, MA, and offices throughout New England and Florida. We specializing in printer and copier leasing. We've been supporting local customers since 1978 in Massachusetts, Connecticut, Rhode Island, New Hampshire, Vermont, Maine, and Florida.
Fill out the form and we will reach out to you promptly.
Lease or Purchase the Xerox VersaLink B615/XL
First-page-out time, printing
As fast as 4.8 seconds black and white / 5.2 seconds color
Processor
1.05 GHz
Print memory (standard/max)
4 GB / 4 GB
Connectivity
Ethernet 10/100/1000 Base-T, High-speed USB 3.0, NFC Tap-to-Pair
Connectivity (optional)
Wi-Fi 802.11n/g/b/a and Wi-Fi Direct with optional Wi-Fi Kit (concurrent wired and wireless connections supported)
Page Description Languages (PDL)
Adobe PostScript® 3™, HP-GL, JPEG, PCL® 5e, PCL® 6, PDF, TIFF, XPS
Print features
Application Defaults, Bi-directional Real-time Status, Booklet Creation, Draft Mode, Job Identification, Job Monitoring, Personal Print, Print from USB, Sample Set, Saved Job, Scaling, Secure Print, Skip Blank Pages, Store and Recall Driver Settings, Two-sided Printing (as default), Xerox® Earth Smart Driver Settings
Maximum Print Resolution
Up to 1200 x 2400 dpi
Print First-Page-Out Time
As fast as 4.8 seconds
Print Speed
Over 40 pages/min
Print Features
Print from USB, Secure Print, Sample Set, Personal Print, Saved Job, Xerox® Earth Smart Driver Settings, Job Identification, Booklet Creation, Store and Recall Driver Settings, Bi-directional Real-time Status, Scaling, Job Monitoring, Application Defaults, Two-sided Printing (as default), Skip Blank Pages, Draft Mode
Operating System Support
Windows®, 7, 8, 10, Server 2000, Server 2003, Server 2008, Server 2008 R2 Server 2012, Mac OS® version 10.10, 10.11, & 10.12, Citrix, Redhat® Enterprise, Linux®, IBM® AIX® 7.2, HP-UX® 11iv3, Oracle® Solaris 11.3, Fedora Core 24, SUSE® 13.2
Page Description Languages (PDL)
PCL® 5e/PCL 6/PDF/XPS/TIFF/JPEG/HP-GL/Adobe® PostScript® 3™
Fonts
136 PostScript fonts; 83 PCL fonts
Paper Capacity (standard/max)
700 sheets standard / 3,250 max
Output Capacity
500 sheets
Media Sizes
Custom sizes: 3 x 5 in. to 8.5 x 14 in.
Paper Types
Pre-Printed, Recycled, Envelopes (Tray 1 only), Labels, Lightweight Card Stock, Card Stock, Letterhead, Custom 1 – 5
Paper Weight
16 lb. to 80 lb. cover
Standard Device Management Features
Xerox® CentreWare® Web, Embedded Web Server, Xerox® Meter Assistant® Service, Xerox® Supplies Assistant® Service, MaintenanceAssistant
Security Features
IPsec, HTTPS, encrypted email. Network Authentication, SNMPv3, SSL/TLS, Security Certificates, Automatic Self-Signed Certificate, Firmware Verification, User access and internal firewall, Port/IP/Domain Filtering, Audit Log, Access Controls, User Permissions, Smart Card Enabled (CAC/PIV/.NET), Xerox® Integrated Card Reader Bay, Setup/Security Wizards, Job Level Encryption via HTTPS/IPPS submission, Encrypted hard disk (AES 256-bit, FIPS 140-2) and image overwrite, Secure Print
Warm-Up Time
From Sleep Mode: Less than 47 seconds
ENERGY STAR
ENERGY STAR® qualified
Electrical Requirements
110-127 VAC +/- 10% 50/60 Hz +/- 3% Hz, 12 A
Power Consumption
Continuous Print: 900 watts or less
Ready (Standby): 72 watts or less
Energy Saver (Sleep Mode): 0.9 watts or less
Temperature
50 to 90° F / 10 to 32° C
Relative Humidity (noncondensing)
15% to 85%
Sound Pressure Levels
Printing: 56.8 dB(a) or less, Standby: 27.1 dB(a) or less
Which is Better for my Business, Buying or Leasing a Printer?
Business printers are an essential investment for any size company. It is crucial to make it as cost-effective as possible, but at the same time, you must ensure that you invest in the right technologies to equip your employees with the tools they need to succeed. We offer several affordable purchase options in addition to flexible lease options.
Printers that are Certified Pre-Owned
Are you on a budget? With our high-quality service and financing terms tailored to your financial needs, you can purchase or lease previously owned equipment at an attractive price. Our Certified Pre-Owned copiers are clean inside and out, free of scratches, dents, scuffs, and dings, as much as we can make them.