Do you prefer video? Check out Sales and Solutions Engineer Kara Sheftel's tutorial on Kyocera Wi-Fi Direct.
Office environments are changing rapidly, and businesses rely on innovative technology to meet the demand. Innovative office equipment creates a pipeline of success for your business. Better equipment calls for better office productivity, which means more growth and revenue for your business. Therefore, investing is worth it if you are ready to take your business to the next level.
What is wifi direct?
Wifi direct is a function that allows multiple compatible devices with wifi-enabled capabilities to connect without needing a wireless access point.
Most wifi router systems require extra hardware for connecting multiple devices to one network. Wifi direct solves this problem, as it is compatible with most enabled devices such as printers, smartphones, cameras, tablets, computers, and more! The connection between the device and wifi direct is a direct connection that is more like a Bluetooth connection.
Most businesses utilize Bluetooth to connect multiple devices and bypass the process of connecting to the server. However, wifi direct offers a more powerful option and can manage a higher volume of data. It is also faster than Bluetooth, making it an efficient choice for your office environment, especially if you connect with many employees.
Wifi direct is truly a superior choice for sharing data between devices. Sharing this data is easier and quicker due to wifi direct's high capabilities and speeds. Plus, you can still protect the confidential data you share within the company, as wifi direct enables robust data protection protocols.
How does it work, and how do I use it?
Wifi direct works by using internal processes that will allow your wireless gadgets to search and discover any wifi enabled devices that are nearby or in the network and allow them to connect. As we have already mentioned, this is like how one would use Bluetooth, but it is important to remember that it is different. Wifi direct holds a competitive advantage over Bluetooth, especially for larger businesses.
To paint a clearer picture, if you are using an iPhone and looking to print a few documents, you can open your settings, and your device will search for nearby wifi direct-compatible printers. From there, you should find a list of devices compatible with your phone for printing.
Once you find the network you want to print from, you will click it. From there, you are good to go! It creates a wireless network that allows multiple devices to connect without committing to an existing public network. It is basically like connecting to your home wifi, so the process should be simple for your employees new to using wifi directly.
We spoke briefly about how wifi direct bypasses the process of connecting to a network via traditional wifi technology. That means that the access points and routers necessary for connection in standard wifi technology are omitted to create a way to link all devices together.
Usually, one device is considered the primary device on the established network, which is used as an access point for other compatible devices to connect. This more convenient and fast process makes it ideal for businesses with many products or services they need to get out.
What should I use wifi direct for?
Wifi direct can be used for many functions in your office environment, making it an ideal office solution. Wifi direct is typically used for file sharing in an office environment.
What makes wifi direct different is that you can quickly share large files with anyone on your team without having to set up wired connections. Wired connections are messy, distracting, and hard to manage in the increasingly digital world. Therefore, wifi direct provides a more compact option for businesses.
Another main reason businesses use wifi direct is for printing, of course! Wifi direct printing allows team members to print offline when the network is down, or they are having trouble. The last thing businesses want to deal with is the production of the necessary print materials being behind due to network connectivity issues.
With more work-from-home efforts progressing worldwide, businesses must ensure they have the equipment to help cast screens more efficiently to avoid a slowdown in important business meetings. Enjoy the flexibility of casting anyone in the company's device onto a conference room tv or any other media equipment you have.
As technology grows and changes, businesses will likely find innovative ways to build upon the existing capabilities of wifi direct.
How is wifi direct going to help my business?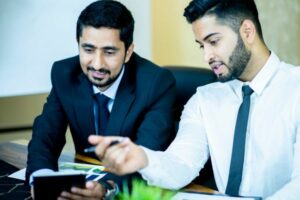 So, now you know what wifi direct is and how it works. You may now wonder how this will benefit your business and elevate you to the next level. Other than the direct wireless connectivity, which we have talked intensively about, there are other benefits to watch out for. To provide a more accurate picture of how wifi direct can help you, we have put together a list of benefits that include:
A flexible option for your office operation
We have touched on flexibility briefly, but did you know you can play multiplayer games across multiple devices with wifi direct? If you work in education, teachers and students can benefit from wifi direct with the ability to pair school-owned technology like Chromebooks or tablets from wifi direct. Educators can continue to make learning fun with this efficient option.
Whether performing wireless printing, sending files, or casting media from your screen, wifi direct can do it all. This all-in-one approach makes it a super flexible option for businesses that need an effective office solution that can help them address numerous issues and concerns with one solution.
Better data transfer, happier business
If you are working with confidential data regularly, you will need solid network connectivity to help you perform at an elevated level. Compared to Bluetooth or traditional wifi, wifi direct employs a faster process for transferring and collecting data.
You can transfer items at speeds up to 250 Mbps! Better, quicker, and more efficient data transfer will only help your business run smoother, as we often run into companies who struggle with managing and maintaining data due to technical issues.
Is wifi direct safe?
Data safety is a reasonable concern of most businesses considering transitioning to wifi direct. Cyberattacks have been on the rise, especially since many businesses have adopted work-from-home business models. We at BDS understand how important it is to protect your data and ensure that you have secure connectivity.
Luckily, the WPA2 security protocol protects connections created through wifi direct. Although you can create direct connections with wifi direct, a random user is unlikely to connect to another enabled device. Wireless technology creates a key-based encryption and authentication process that prevents random attacks and connections from happening, meaning better control.
Hackers can easily breach and steal confidential data when you work through a centralized network. Wifi direct networks are more secure and require extra steps to join the network. It's also worth noting that wifi direct does not offer internet access, as the primary function is to streamline data transfer. So, no need to worry about personal usernames, passwords, or information being stolen from using the network on your device.
Does BDS offer wifi direct services?
BDS has cloud and print solutions, including wifi direct, available today!  We offer a comprehensive cloud printing solution to help you better manage workflow tasks, have better control over your data, and provide regular software and security upgrades so you are constantly updated with the latest technology.
With our secure cloud printing option, you can release your printed documents securely and authenticate them with a swipe card or pin, whatever works best for you! Flexibility is a highlight of how BDS approaches office solutions, and we are prepared to meet you where you are at. Whether you have budget concerns or need advice on finding the best office solution, BDS is here to help.
Our service technicians show up on-site to your business for rapid implementation of a strategic office solution to help you elevate your business to the next level. Do you want to learn more about BDS office solutions? If so, regularly check out our blog for the latest on printers, copiers, services, and industry news.
Be sure to check out our social channels, Facebook, LinkedIn, and YouTube, for company news and updates on new blog posts!