The copy machine uses intelligent character recognition (ICR) to create editable and shareable PDF files from scanned paper documents.
OCR scanning: What are the advantages?
You can automate the conversion of paperwork through OCR technology, eliminating the headache of manual data entry. Scanning physical documents can be time-consuming in digital workflows, but OCR systems can speed up the conversion process.
How does the Optical Scanner Work?
Imagine that you want a paper invoice on your PC. You want it as a secure PDF file so that you can edit it and email it.
You can use the OCR feature once you've scanned the document with your multifunction printer to save time. This will avoid having to retype all the text from the invoice into a new document on your PC.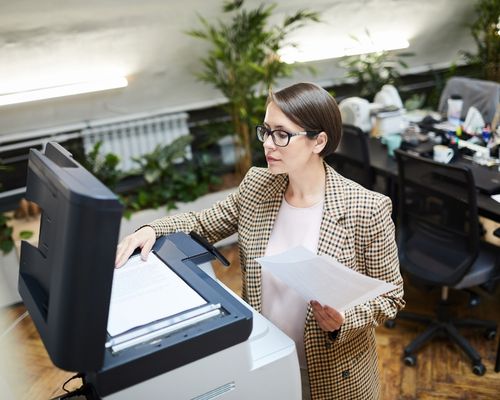 Boost workplace productivity:

With OCR scanning, document search is more efficient, safer, and accurate, allowing immediate response to document requests.

Reduce document errors:

Document scanning systems rely on scanning individuals to identify each scanned document correctly. With OCR scanning, this document is easily found because the data from the OCR scan is stored in a searchable database.

Document security:

Business documents must be secured. OCR scanning encrypts and backs up your digital files across multiple regions. Access control can also be assigned to digital files per user.

Better service:

With OCR data processing, your employees can find scanned documents faster. Clients receive most scanned document information instantly as a result of this benefit.
What documents should be scanned for OCR?
Scanning a paper document with OCR is possible for any document. OCR scanning is most commonly used for:
Invoices
Receipts
Tax forms or documents
Legal documents
Employee records
Medical files
Financial documents or statements
Contracts
A wide range of color or black-and-white documents can be converted into high-quality PDF files. File types can include Microsoft Word, Excel, PowerPoint, google docs, JPG, PNG, IMAGE, HTML, RTF, CSV, TIFF, BMP, and others.
Make your multifunction printer (MFP) a powerful document workflow tool
MFPS can eliminate desktop OCR software. Save time, improve productivity, and automate repetitive document workflow tasks. Your OCR solution can create searchable or editable files at the MFP.
Easily create searchable PDFs

This workflow can be used for scanning to email, scanning to network, and even scanning to USB.

Easy text conversion

Using the MFP, employees can easily convert printed documents to an editable format at the speed of business.

Repurpose printed materials

Directly import text from MFP-generated RTF or TXT formats into your documents, spreadsheets, and databases.

Eliminates OCR software

Desktop applications and complex server-based software aren't necessary. You can find unstructured digital information quickly by creating searchable PDFs through embedded smart apps on your multifunction device.
OCR Software You Can Trust
AI and machine learning can be used in OCR software to implement more advanced intelligent character recognition (ICR) methods. These specific letter methods include recognizing text or handwriting styles. This enables users to edit, format, and search the documents as if created with a word processor.
There are several different options to choose from. TechRadar put together a top list for 2023 which we have summarized below.
Adobe Acrobat Pro DC

The Adobe Acrobat PRO package has an impressive list of features at a slightly higher price. This streamlines your workflow if you already use additional Adobe products. Subscriptions are available on a monthly and annual basis.

OmniPage Ultimate

This product has many features beyond what you might expect. Despite its relatively high price, most small businesses will find it affordable. With its accuracy in conversion, OmniPage software is trusted by some of the biggest businesses. Set up custom workflows that deliver your documents automatically to the right place in the correct format, according to your requirements.

Abbyy FineReader software

The solution is comprehensive enough for small businesses, though casual users might prefer something lighter. The software includes all the tools you need to digitize paper documents and make them fully readable and neatly organized. The program features text recognition, pattern recognition, and the ability to convert it to PDF, Microsoft Office, or other formats. It can also add annotations and more.Despite its rather outdated appearance, the software is functional and clean.

Readiris

The interface of Readiris is polished and it has a wide range of useful read-text features and functions. This has earned Readiris a place on our list. As one of the fastest and slickest OCR programs out there, it puts some older applications to shame.

As soon as you start using Readiris, you can jump quickly between screens without consulting a manual or embedded help file. As a result, it is one of the most cost-effective solutions on this list.

Rossum

With Rossum, you can scan invoices for key information that can be exported into whatever program you're using with OCR technology. Enterprises with a high volume of invoices, especially from contractors and suppliers, may find it especially helpful. AI is used to scan documents for key information, instead of using a template format. This is beneficial as invoices are usually formatted differently.
How can BDS help with OCR?
A pioneer in document management, BDS provides organizations with the solution to go paperless.  With the move toward digital technology, more and more businesses are using optical character recognition (OCR). Contact us today if you need assistance leveraging OCR or any other print environment product or solution.