Whether leasing or purchasing a printer with BDS, every printer has an IP address, also known as an internet protocol address. An IP address allows you to connect seamlessly to your computer or other compatible devices through a wifi network. It may be easier to think of it as your network's unique address where devices can connect.
Why are IP addresses necessary?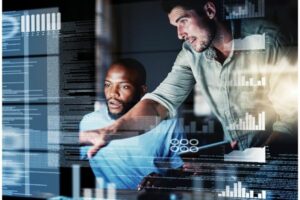 IP addresses are the connector between any device that connects to the internet. That includes routers, TVs, computers, tablets, consoles, and even phones. Whenever you google something in your web browser, you request an information exchange.
You may still be confused, as you cannot visit the web from a printer. However, printers still use IP addresses to connect to an internet network to receive print requests. Any instructions you send to your printer, whether scanning documents or printing, will be sent through your IP address to ensure the device you are printing from has access to your network.
IP addresses can provide many advantages to small and large businesses alike, allowing devices and websites to successfully communicate with each other over the internet. Seamless communication between the two will make it easier for the devices you will be printing from and the printer to know the exact location of the transferring data.
Additionally, the printer's IP address helps to ensure that connections to the printer are secure, enacting a rigorous internal verification process when devices try to connect. This provides more control over your print environment.
Finding your IP address on Canon imageRUNNER Models
Canon imageRUNNER copiers and printers are popular office options that most businesses are utilizing in their print environment. Today, we are going to focus on finding the IP address on Canon imageRUNNER models.
To find the IP address on your Canon imageRUNNER, you must:
Begin on the start menu
Click Settings
Go to Preferences
From there you will click your Network or printer host name
Enter your admin credentials if you have them
If you don't have your credentials, print your output report and you will receive an IP address
The most common IP address found on these models is an IPV4 which you can find in the report you print from following these steps. From there, you can use the address to login to your digital interface. Finding your IP address is going to be unique to each device connected to the internet.
I don't have a Canon imageRUNNER, and still need help finding my IP address
The directions we have provided are unique to the Canon imageRUNNER models and not universal to all models. Unfortunately, each device and printer you are connecting to and from will have a unique process of locating the IP address depending on the model, machine, and device.
Finding the IP address is not a one-size-fits-all operation. We recommend first locating your manual for your equipment to see if there is a process for finding the IP address on your equipment. If you are still having trouble finding the address, a BDS service technician will be happy to assist you.
For more information
There are many types of IP addresses that you can also explore, including private IP addresses, public IP addresses, Static IP addresses, and more! To learn more about IP addresses, printers, wifi connectivity, and many other topics, check out our blog for the latest information.
Are you looking to stay current on company news, events, and products? Be sure to follow and subscribe to us on our Facebook, LinkedIn, and YouTube channels for the latest content!
BDS is an authorized Canon reseller of both printers and copiers. Get started today and let BDS find the right equipment and model to best fit your business needs.