Have you ever wondered how your local supermarket or restaurant prints receipts? Scale printers are often used in these environments to print various materials daily, including receipts. Whether printing a price, food safety, or thermal label, this printer will work best for your business.
What makes a scale printer different from any other printer?
Scale printers are designed to print labels quickly for most retail businesses or any other office environment that utilizes labels daily. Usually, we see these printers in supermarkets, retail stores, and restaurants because they get the most use.
Scale printers differ from multifunction and inkjet printers because they have different capabilities. Inkjet and multifunction printers are more industrial than scale printers and offer more advanced printing, scanning, and copying options. These printers often work best in traditional offices that handle a large volume of data and prints.
Scale printers are a super-fast and reliable way to print your labels and will not slow down business or transactions. The transactions and printouts are accurate and built to last longer, making them a more sustainable option.
Will a scale printer accurately price my items?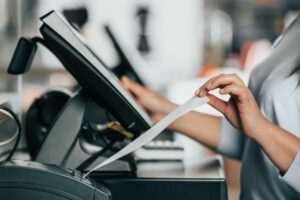 One of the greatest strengths of these printers is their ability to price your items accurately. Whether you are selling cuts of meat, prepared food, cookies, clothing, or any other item, you can sell them for an accurate price per weight. The efficiency and accuracy of the scale printer make it an outstanding choice for allowing businesses to meet the demand of their businesses.
The last thing you want to deal with is upset customers whose produce or product is not accurately priced. A scale printer will solve this problem, making it a fast and reliable way to complete transactions and assist customers.
How big are scale printers?
Like other printers on the market, scale printers are sold in different sizes. Each size is made to meet the demand of each business. For instance, if you are operating a small grocery market that does not have a large influx of inventory or customers, a smaller-scale printer may be sufficient to get you started with labeling your product.
Suppose you are operating a larger industrial business like a fast-food chain restaurant. In that case, you will need a more industrial and commercial printer to meet the demands of a fast-paced environment. Before investing in your scale printer, business need and demand are the things to consider.
If you own a small business and are just starting, it is tempting to invest in a smaller-scale printer to help get you started with pricing and labeling your equipment. However, as your business grows and expands, that same-scale printer may not be able to meet the demand down the line.
When you invest in your next-scale printer, consider, and anticipate your future business needs so you can efficiently meet your future demands without slowing down your business operation.
What can I expect to pay?
Scale printers will vary in cost, just as they vary in size. This can make accurately pricing your next scale printer a bit tricky, but possible. In general, scale printers can range between $200-$3,000 at a retail price.
We understand the significant price difference, but as mentioned, different businesses have different needs. If you run a small business, $200-$500 may be a more accurate measurement of what you can expect to pay.
If you are on a strict budget, you may wonder if there are more affordable options than purchasing at the retail price. Many affordable options are available for businesses investing in new equipment, including leasing, and buying a pre-owned machine.
Purchasing pre-owned printers and leasing scale printers both have competitive strengths. When you lease your scale printer, you can expect to pay a fixed amount monthly to operate and use your equipment. Leasing is a bit more flexible regarding payments and the ability to upgrade your equipment.
As your business grows and expands, leasing ensures that you can quickly and seamlessly upgrade your equipment to meet up with the demands of your business while saving some money on the upfront costs.
In contrast, when you purchase pre-owned scale printers, you often pay a lower retail price than brand-new equipment. Scale printers have an excellent reputation for being long-lasting, reliable, and secure machines. When you invest in a used scale printer, you do not suffer in quality, especially if purchasing from a certified print partner.
Final Considerations
Deciding on the correct scale printer for you and your business needs will be unique to you and your business needs. Investing in the equipment is a wonderful way to ensure your labels are printed and priced accurately and quickly.
Do you want to learn more about the best printers and office equipment for your business? Be sure to regularly check out our blog for tips and tricks. For the latest industry news and trends, follow us on our Facebook, LinkedIn, and YouTube channels!