Uncontrolled printing is the culprit of excess waste and printing across offices nationwide. To combat this issue, systems need to be in place to help businesses better manage what and how much is being printed to avoid waste. Beyond hurting the environment, waste hurts your bottom-line expenses, as unnecessary printing is useless to your business.
What is PaperCut?
PaperCut is a sustainable, efficient, and easily manageable print management solution that helps you maintain and control your printing costs in the office. With PaperCut's software management, you can keep track of how much your office is printing or help cut down on unnecessary printing.
How does it work?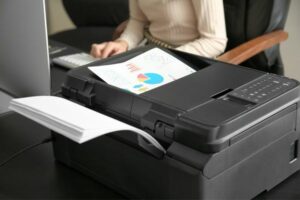 PaperCut is put on top of your server and takes over your print jobs. Once PaperCut is secure and ready to go, you can begin your printing job. To pick up the print, you need either your pin code, badges, or key fobs to get your prints. This provides better control and management for businesses, ensuring that there is not any unlawful printing happening on your server.
PaperCut works well with all machines, models, and brands, so you do not have to worry about your specific model being incompatible with this print management software. Whether printing from a mobile device, desktop, or tablet, PaperCut is ready to help make your print jobs more efficient.
Are you ready to leap into a more sustainable and efficient print management system? If so, BDS can help with our managed print services designed to meet the unique demands of your business. Request a quote today!