Are you in the market for a new printer? If so, you may have run into the term "duplex printing" or "single-side printing" and are confused by what they mean. Today we will explore the differences between the two and how each mode affects the quality of your prints. Depending on your printer, one printing method may work better for you.
What is duplex printing?
At the most basic level, duplex printing is a faster and more efficient way to print documents and materials on both sides of the printer paper of your choice. The term "duplex" refers to double sides or both sides of the page, which is a neat way to remember in case you forget.
Although we have defined duplex printing more compactly, it is a simplification. Different printers have different processes and ways of approaching duplex printing, making it challenging to figure out. For instance, there are printers available on the market that strictly require you to manually flip your paper over and reprint to get the duplex printing effect.
If you run a small business, this may be manageable due to smaller businesses tending to print fewer print jobs compared to larger, more commercial businesses. Still, this can be a super time-consuming process and is only applicable and feasible for some businesses.
Still, many businesses choose to conduct their double-sided printing in this manner. There are still strengths to doing so, considering duplex printers make double-sided printing easier because they automatically skip every other page in a print job, making it easier to flip the batch of paper over.
Auto-Duplex printing may be a better option
If the traditional way of duplex printing is not for you, do not worry. There are still options available, including auto-duplex printing, which automatically flips the pages for you. The obvious advantage of auto-duplex printers is that they completely handle the entire process, so you do not need to flip the pages manually.
The entire process is handled internally and requires little to no effort from you aside from pressing the print button! Even better, most modern printers, including MFP printers, have duplex printing capabilities. The wide availability of duplex printing on most modern printers makes duplex printing widely accessible.
If you have an older printer model and want to keep your equipment but still require duplex printing, options are still available. You can attach an external attachment that will automatically flip the paper over.
What is single-side printing?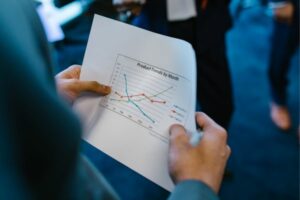 Before duplex printing was available, the traditional printing mode was single-side printing. Single-side printing is as basic as it sounds. When you print single-sided, you print on one side of the page. Single-sided printing is a perfect printing option for basic printing needs.
Although simple, single-sided printing has strengths that may make it an excellent option for your printing environment. Single-sided printing is an economical option, especially if you are printing infrequently. Single-sided printing may seem less expensive at face value, especially if you are printing infrequently.
Duplex vs. Single-sided: Which is better?
We lean more towards duplex printing as a better option due to the reduced waste and surprising cost savings. However, it depends on the individual or business. Although duplex printing seems more expensive because of its more technologically advanced capabilities, the double-sided printing option will save you money.
When you print on both sides of the paper, you save space by only printing on one page, resulting in purchasing less paper. This will save you more money overall while still being an eco-friendly option.
Then again, if you rarely print on both sides of the paper, you are better off sticking with single-side printing. In general, duplex printers tend to be more expensive than single-sided, so the investment becomes worth it if you regularly print in dual modes.
Remember that even if you are printing single-sided, if you need to print double-sided, there are still options available to help, including adding extra hardware or manually flipping the page over and going through the steps. Just be aware that this will require additional steps but may be worth it depending on your printing volume.
Can BDS help with my duplex and single-side printing needs?
Whether you need assistance finding the right printer to assist with your printer needs or experiencing difficulties printing, BDS is here to help. Our expert service technicians are prepared to deliver the best service, training, and knowledge available in the New England and Florida communities! Contact us today to get started.
Are you looking for the latest industry news and trends? Follow our Facebook, LinkedIn, YouTube, and TikTok pages to stay updated. We consistently post new tips and tricks for your printers and office solutions on our blog too!