If you print any materials in color, you may wonder about the difference between CMYK vs. RGB printing color modes. It may be challenging to decipher the difference between the two if you are unfamiliar with what each mode means and what each mode will provide for your graphics.
Both CMYK and RGB color printing options have their strengths and are designed to meet unique needs depending on the project you are working on. Knowing the difference will help ensure you can tailor your project to the correct color mode that will amplify the color range you are printing.
What is a color mode?
To understand the difference between RGB and CMYK, you must first understand what a color mode is. Color modes are separate ways to combine the colors you print to create an image. An internal system creates this effect and collects the color information. It is a fantastic way to gauge the color palate you want to create.
Color modes are not always as cut and dry as a simple measurement to create color on an image. The final product will be different depending on the system used to analyze and combine the colors you are printing. The platform from which the image is being seen can also make a difference in how a final product will look.
Knowing how color modes work can help you gain a stronger insight into the difference between RGB and CMYK, both color modes.
What is the difference?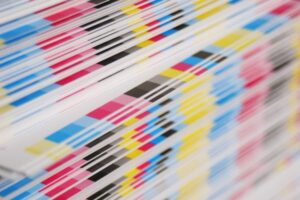 As we have mentioned, RGB and CMYK are popular color modes used to print various materials often used by graphic designers. The main focus regarding the difference between RGB and CMYK is that RGB is best suited for digital images primarily on the screen, like a computer, smartphone, or TV. In contrast, CMYK will be best suited for designs you physically print, such as brochures, flyers, or pamphlets.
Although that is the main difference, minor differences still affect your printing quality. If you print with the wrong color mode, the quality of your image will be poor, affecting how the design looks.
RGB
RGB stands for Red, Green, and Blue. Designers mix these three standard colors to create any range of colors available. RGB is considered an additive color mode. This color mode is primarily used for displaying designs and images on any electronic device, including video games, phones, and tablets. Thus, it is one of the most popular color modes designers use.
There are some strengths to using the RGB color mode over CMYK that, include:
A practical system
Easy to implement in most systems
Often considered the base color space for various applications
Best for Icons, Buttons, Logos, Banner ads, blog and social media images, infographics, video, and photo content
Although the RGB color mode has its strengths, specifically when it comes to producing digital or electronic images, there are still some drawbacks that are worth considering, including:
Not easily transferable between devices
Weak option for identification of colors
The difference among colors is not linear
The main takeaway of this color mode is that it is primarily used to represent and display images in any electronic system. Because of how prominent technology is in our culture, RGB has made much development in the digital field and has, in turn, affected designers.
CMYK
CMYK stands for Cyan, Magenta, Yellow, and Black. CMYK is a subtractive color mode, which means pigments are used to control which colors of light are absorbed and what ones will be left and reflected, which will be the final product's color.
The pigmented ink reduces the light reflected on white paper; the more pigmented ink on the paper, the less white light will reflect.
Given the process of creating color with this color mode, CMYK is often best suited for any printed material, as it depends heavily on the white background of paper to produce the most accurate representation of the colors printed.
Some examples of printed materials that you would print using the CMYK color mode include:
Brochures
Business cards
Billboards
Signs
Magazines
Book covers
Invitations
Menu
Although we live in a highly digitalized world, where most advertisements and marketing materials can be accessed digitally, there is still a need for printed physical copies, which is why CMYK still stands as a popular color printing mode designers use.
Using CMYK on a computer screen
When designing with CMYK on a computer screen, things can get tricky. As we know, when designing on a computer screen, the colors on the display screen will appear in RGB. If you are creating a design in CMYK while this happens, you can get confused about how the final product will look.
This confusion is because the computer screen and monitor you are working from need to accurately show the true CMYK colors you are printing, making gauging the final product looks a bit more complicated.
Depending on the design software that you are using, they will try their best to emulate colors that you would see in CMYK to provide a better estimate of what your design will look like. It is important to note that this is not a perfect science, and slight color variations are possible when printing.
For extra security, try to get a sample hard proof printed so you can check and confirm that the colors are accurate before printing.
Final considerations
Knowing the difference will help ensure that your final designs are printed accurately whether you choose to print in RGB or CMYK. If you have any questions about printing in either of these color modes, contact a BDS service technician to help!
Do you want to keep up with the latest industry news and trends? Be sure to follow us on our Facebook, LinkedIn, YouTube channels, and blog for the latest content!