Are you tired of manually organizing, consolidating, and dispersing your mail in a mailroom? If so, we have a solution that may be useful to you! With BDS digital mail solutions, you can use digital scanning and other technological processes to digitize your mail inflow for your business. Businesses benefit from this more efficient and innovative option over a more traditional mail center.
Adapting your business to these solutions will provide your organization with a digital transformation. We understand that physical mail is the standard and you have apprehensions about digital mail solutions. To put your mind at ease, we have pulled together a list of strengths for adopting this amazing office solution.
How are digital mail solutions going to benefit my business?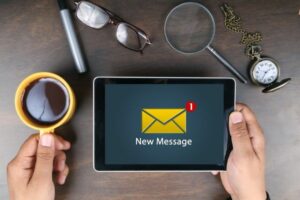 If you are in business, you understand the necessity of evolution and change. This is not limited to business strategy but also includes office solutions. Using physical mail in a mail center can be a headache for your business and whoever organizes and distributes the mail. Efficient business practices are the key to success, and in a highly digitized society, your business must be ready to meet these needs.
Cost-Efficient
Let's be real. Everyone loves a cost-efficient office option. Especially a cost-efficient option that is also effective in elevating your office operation. With digital mail solutions, you do not need to invest in bulky, labor-intensive equipment for your office. You only need a scanner to upload mail, invoices, or other options.
Furthermore, a digital option means goodbye to physical mail. Being paperless is not only better for the environment, but it also helps put more money into your pocket. You can expect to see a reduction in operational costs from being paperless. Furthermore, you can expect your manual labor costs to be reduced, as you do not need to rely on manual processes since digital mail solutions utilize an automation system.
A secure and safe mail solution
Whether working in a large or small business, you want to be sure you can easily track the mail moving through your company. Digitizing your mail allows you to do this quickly, as you can follow the mail from when it is scanned to when it is delivered. Having the capability to monitor your mail closely will provide your team with security so that mail will not get lost in the process.
Is your business operating remotely?
If so, a digital mail solution is a no-brainer for your business. Digital mail is cloud-based, so you do not need to worry about being in the office to manage your mail. Instead, you can access and manage your mail flow from anywhere! If the person receiving mail wants to recycle, shred, or forward the mail, they can do it remotely, saving trips to the mail room at your office.
With more businesses adopting work-from-home models, having this option will only make life easier for employees and managers alike. Even if your business is considering adapting to a hybrid model, a digital mailroom solution will still benefit your business by having less crowdedness in your mailroom.
I need document management services. How can BDS help?
At BDS, we prioritize scalable document management services so you can automate workflows with an elevated level of security. BDS sets you up to have better control over your business mail and document management.
With over 40+ years of experience serving the New England and Florida communities, BDS is ready to provide the highest quality of service and product. We have experience partnering with diverse industries, including Accounting & Finance, healthcare, education, and more!
Our professional team of individuals are dedicated to result-based work, meaning we will only be satisfied once you, our partner, are pleased with your result. To get started today, fill out a quote, and one of our lead service technicians will get back to you as soon as possible!
Looking to stay current on industry news, insights, and products? Follow us on your Facebook, LinkedIn, and YouTube, and regularly check our blog for new content!